Points Standings for season so far
Enduro points 2018 - Click here. Final points for the year . Congratulations to our new Champions

2018 Enduro Champions
Expert Class Fraser Flockhart 2nd Andrew Bisset 3rd Mitchell Brown
Over 40 Ian Bisset 2nd Alan Davidson 3rd Mark Ritchie
Clubman Sean Mackay 2nd Jamie Black 3rd Ben McLuskey Sean Mackay promoted to Expert Class
Over 50 Andrew Maben David Hill Phil Hewitt
Clubman B Alistair McGowan 2nd Max Hamilton 3rd Angus Bruce All promoted to Clubman Class
Sportsman Sandy Milne 2nd George McBeth 3rd Craig Fisher All promoted to Clubman B Class

Hare and Hounds 2018 - Still Championships to be won at Birkenhill

Youth Hare and Hounds 2018 - Congratulations to our new Youth Champions
Youth Class Logan Ferguson 2nd Abigail Aitchison 3rd Zac Carroll
H&H Juniors Robbie Gray 2nd Cristina Palmer 3rd Marley Mackenzie

The final SACU Championship Hare and Hound of the season will be on 21st October at Birkenhill near Elgin - organised by Elgin Endurance Club . A good turn out would be appreciated as this is their first event without Barry . Get your entries in as soon as possible to help the organisers
There will also be a Youth race before the main. Get your entries in now
Regs and entry forms are now available
PLEASE NOTE THE DIRTBIKE EVOLUTION H&H PLANNED FOR 7TH OCTOBER HAS BEEN CANCELLED
SBEC presented the Teenage Cancer Trust a cheque for Ј6000 .The H&H event the club held at Glendarg was in memory of Craig Peter Nixon & Craig's sister Lisa handed the cheque over to Emma Vickerstaff regional fundraiser for the charity. a massive thanks again to all our sponsors & helpers.
Thank you to all the Riders who entered the event it was a great turnout & to all the Marshals for helping out .
Thanks to Craig's family for allowing us to hold this event in his Memory .
Blue Group
David Knight MBE top World Enduro Rider
Lyndon Poskitt Dakar Rally Malle Moto Rider
Ecosse XC
Dirt bike Evolution
Marlin Industry's
Wm Moto
Lindsay Rae
Ryan Borthwick
Drew Harvey
RJT Excavations
Tom Douglas & Ben Douglas ( Landowners)
Jim Harvey
Kenny Donaldson
Melville Motor Club
Quarry Bank Garage

Putoline
Renthal
Jane Daniels top British Female Enduro rider
Jack Edmonson top British Enduro Rider
Firepoint Andrew Maben SACU
Kevin Watson Engineering
John Falla
Jimmy Ballantyne
Caroline Thomson
Sports Sure
The Bruce family
John Little for doing the Timing
(Charlie Mackenzie)
ET James & Sons for tape
Pamela Thomson for Hampers
The Artisan Van for top quality food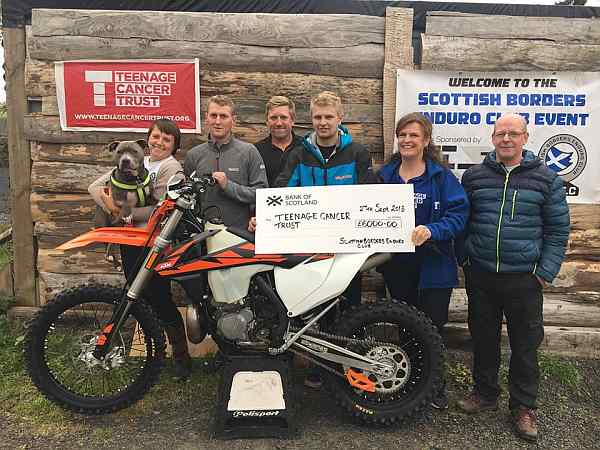 Ecosse XC Hare and Hound on 16th Sept at Whitekirk -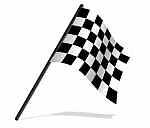 Full corrected results available -
Andrew Bisset lead them home one lap clear on 18 laps - ahead of Ben Thomson and Dean Reid. Great ride


Enduro Bon Accord on 23rd September at Drumtochty.
A proper forest Enduro with lost of tracks, trails and climbs and descents. Thanks to the club and Stuart Cooper for all the effort to make the event happen. We do need more riders to support events after all the work the clubs put it in to set the event up. Forestry charges and other costs have increased and we need more entries to make sure the events do not run at a loss. USE IT OR LOSE IT.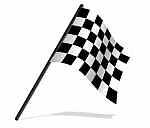 Final results- Won by Frazer Norrie ahead of Ben Thomson and Richard Hay in 3rd.
TEAM ENDURO - WON BY ELGIN ENDURANCE CLUB WITH BON ACCORD 2ND AND SBEC IN 3RD. THANKS TO ALL THE RIDERS WHO REPRESENTED THEIR CLUBS AND TO BON ACCORD FOR HOSTING IT.
FULL TEAM RESULT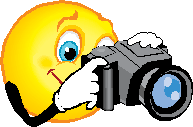 Frazer leads them home
Watch out - thieves about again. There were attempts to steal bikes just after the Glendearg H&H. Luckily they were thwarted - but take care. Again check for trackers on your vehicles and bikes.
Safety advice. Check your vehicles for trackers before you leave. Watch out for any vehicles following you. At events photograph any suspicious people or vehicle taking an interest in bikes.
At home use a ground or wall anchor and a quality chain. Remove rear wheel spindles and keep in the house. Use a baby monitor if your shed or garage is separate to the house so you can hear any activity.
Avoid having bike specific stickers on your vehicle if it is parked at your house.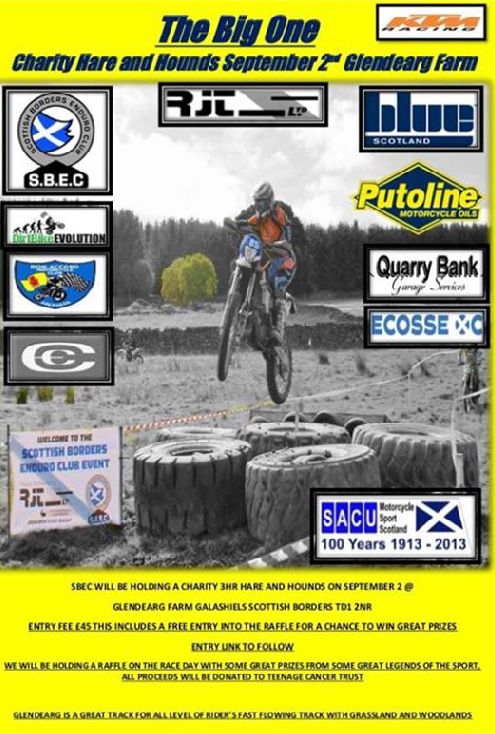 The Scottish Borders Enduro Club ran a Charity Hare and Hounds on Sunday 2nd September in aid of the Teenage Cancer Trust in memory of Craig Nixon.
It was a well supported event with 100 riders entered. The club put on a great course with an "extreme " section to test the riders. The event was dry for the event which allowed the newer riders to get round the course.
A great job by the club and thanks for all their hard work - it was worth it. The club also ran a raffle at the event with a lot of local and distant sponsors contributing a large number of prizes - from goodie bags to sets of tires - very generous . The insurer Sports Insure and the SACU waived the costs for the event so all the money raised goes to the charity.
Thanks to all the riders who turned out on the day to support the event . And as always a thank you to landowner for the use of the ground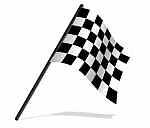 Results - . Ben Thomson put in a great 12 laps for the win with Ben Mitchell pushing hard for 2nd with 11 laps - only Mark Ritchie (O 40) and Andrew Currie ( Clubman) also managed 11 laps.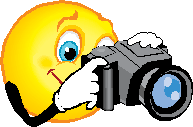 More photos

Points Standings for season so far
Enduro points 2018 - . Updated to include Lauder and West Linton
Hare and Hounds 2018 -
Youth Hare and Hounds 2018 -
Well done to Stuart Mack on becoming the ACU Clubman Extreme Enduro Champion. All his trials experience was needed in this very demanding sport. As with all British events there is a lot of travelling and effort needed - and also a supportive pit crew.


SACU Enduro Championship a two day event at Dirtbike Evolution's Woodheads track - 5/6th August.
Saturday was a great day out in sunshine on a dry track. Lots of new ground including tracks across the road. The special test was a flier with a lot of effort and tape put in to it. Some tricky off cambers -just it well it wasn't damp - ask Steven Currie about that !!
Fraser Flockhart was flying with Andrew Bisset in close pursuit with Ben Thomson charging hard in 3rd. And Fraser was on top form on Sunday to lead them home with Andrew and Ben chasing.
Thanks to Stevie and the crew at DBE for a fantastic weekend - shame more riders didn't turn up. Use it or lose it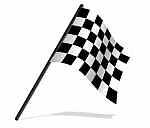 Check out for full results for Saturday and Sunday.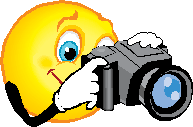 More Photos from the Saturday.
Fraser Flockhart flying for the win
RedBull Romaniacs - is over. Won by American Wade Young with Manuel Lettenbichler in 2nd and Jonny Walker in 3rd . For full coverage and video see . Also
SACU LIFETIME ACHIEVEMENT AWARD.
Congratulations to Jim and Linda Ballantyne on receiving their SACU Lifetime Achievement Award. Long overdue they were presented with their award at the recent Heriot Enduro.
After many years riding trials and ISDT's Jim also road in Enduros and has been a staunch supporter of the ISDE. Jim and Linda have been to many of these events supporting the riders in all conditions - hot and cold. Jim is also a great fund raiser for the ISDE Team providing support for the team out of his own expenses and selling T shirts and other items.
A regular at most events Jim and Linda (along with John Little and Eileen) man checks at far flung parts of the course - offering encouragement and advice to riders as they pass through.
Currently the Enduro Chairman (again) he speaks up on our behalf at management and other meetings to ensure the sport gets the recognition it deserves.
Thanks to Jim and Linda for their years of service.
Jim and Linda at the time check in Sardina in 2013 - very hot and very dusty.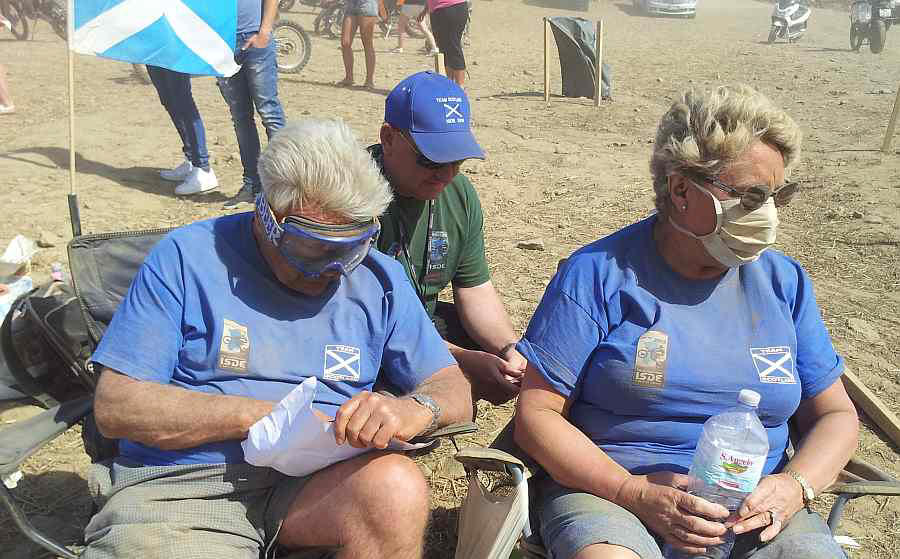 Melville SACU Championship Enduro in June.
New course at Heriot from Kenny Donaldson. Saturday and Sunday won by Fraser Flockhart with Andrew Bisset in 2nd and Mitchell Brown in 3rd.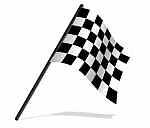 Saturday Results
Sunday Results

2017 Enduro and Hare and Hounds Awards - these were due to be awarded at Selkirk Enduro - but due to the village Hall not being available now the awards were handed out at the Heriot Enduro on the Saturday about 9:00 am . It is planned the 2018 awards will return to an end of season format and be presented about the 3rd week in Jan. Medals and trophies are away for engraving.
Andrew Maben receives his Over 50 Trophy from Jim Ballantine

SACU Championship Hare and Hound - Ecosse XC at West Linton 10th June.
A great event with perfect weather - hot and sunny with even a pool to cool down in. Well done to Clerk of the Course Jim Dodds and Mark Ritchie and Amanda and all the other helpers who put on a perfect days racing.
A big event benefitting from a Langdale event being cancelled - great job by the club to accommodate the late entries.
The sand quarry always sort them out to start - and then its a blast across the moors to a few wee bogs then a blast back and up the hills before another bit of sand and the beach - and do it all again.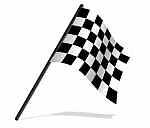 for Adult results . Won By Andrew Bisset with James Jackson in 2nd 1 lap down and Josef Westgarth in 3rd.
for Youth Results won by Logan Ferguson
.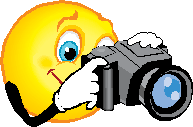 More photos
Red Bull Erzberg Rodeo 2018
Congratulations to Graham Jarvis on winning the Red Bull Erzberg Rodeo - an amazing win to overhaul the leaders at Green Hell and literally push on for the win. With Jonny Walker in 3rd and Mathius Lettenbichler in 3rd. Real enduro spirt with riders helping each other at the toughest bit - even when it means losing places. See for the video replay.
ACU British Enduro Championship at
Dirt Bike Evolution on 26/27 May 2018 at the Thirlestane course .
Report on and results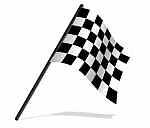 Danny McCanney wins both days of the new ACU Championship round at Lauder with Tom Sagar a consistent second.
A big thank you to Stevie Currie and his great team for a fantastic event and their first BEC round. With sun both days it was a hot day out but the riders had a chance to cool off in the river test and then have a nice mud bath to finish.
The course followed a route through the forest , across some brash then steep hills and descents before arriving at the out check. A quick run down another steep forest track to the first test - a cross country blast and back along and across a river to wash of the dust.
The second test started with a flat out blast up the hill followed by an MX style off camber descent down the hill - followed by a narrow gully and river crossing the a blast back to the finish. The back to the pits and do it all again.
Ceud Mille Failte - come back soon.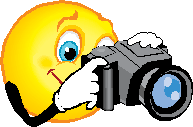 More photos

Championship Enduro 20th MAY at Bon Accord Craiglash
A great event with lots of new tracks and a new test. Thanks to Stewart Cooper and the team.
Some new faces at the event - good to see new young riders getting round so well.
The club marshals looked very efficient in their new red bibs - keeping the spectators and riders safe. The course was the usual mix of woods with off camber hills and the odd wee rock to catch out the unwary. Never an easy course but a rewarding one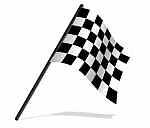 Provisional
The Experts was won by a flying Fraser Flockhart on the Yamaha - with Andrew Bisset close in 2nd. Fergus Lamb was looking good for 3rd but a big off put paid to his day.
Sean Mackay took the clubman class win closely followed by Jamie Black and Andrew Currie in 3rd
In the Over 50's Andrew Maben continues to excel but was only 6 seconds ahead of Neil McGregor with Davie Hill always a threat in 3rd
Max Hamilton lead the Sportsman home ahead of Alistair McGowan with Iain Henderson in 3rd
Sportsman was won by Sandy Milne with Neil G Alexander in 2nd and George Mcbeth in 3rd.
More pictures
Pat Cesari - maximum effort
Angus Bruce - learning the course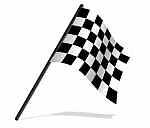 SACU Championship H&H Ecosse XC near Duns - 13th May. Provisional Results
Adults Result .Congratulations to Andrew Bisset on the win .
Youths Result .
Dirt Bike Evolution Enduro on 22nd April at Woodheads near Lauder. Round 3 SACU Enduro Championship.
A dull but mostly dry day for the newest venue in the calendar. Clerk of the course Steven Currie and his team did a great job to get a 10 mile lap on farmland, forest and the odd wee muddy bit ready in time.
With over 100 riders it kept the check and timing crews busy all day. The tight and twisting woodland test providing a challenge with the constant change of direction.
A new feature was the "Lauder Car Wash" - a deep gully leading to a nice bog on exit. Great fun to watch .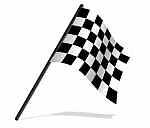 Provisional results - . Expert Class won by a flying Fraser Flockhart hard pushed all day by Andrew Bisset.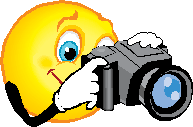 SACU Enduro Championship EEC 2 day at Lossiemouth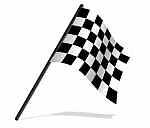 Results Saturday .
Results Sunday .
Frazer Norrie was in fine form winning both days - with a close battle with Fraser Flockhart on his Yamaha.
In the Clubman B Angus Bruce finished his first Enduro winning both days to set up an exciting season.
Another great event from EEC and a big thank you to the club - with Kevin adding lots of new ground and Barry his usual efficient self (But he should really be resting !) And Francis running the checks and keeping everyone in order.
And a great big thank you to the new timing team of Mitch, Alan, John and Kirsty . No errors or missed times over both days - despite the riders best efforts. This year we saw a white front plate (vaguely pink) with white numbers and another rider with white numbers on a yellow plate - give us some help and make your numbers easy to read as you ride past.
Photo of Frazer in flight and Fraser on the beach .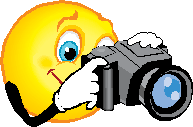 More Photos


Round 2 of the SACU Hare and Hound Championship- Ecosse XC at Tyninghame 25th March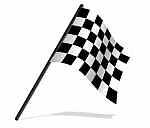 Results from round 2 at Tyninghame . . Experts won by Andrew Bisset after a race long battle with Fraser Flockhart.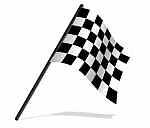 Results for Ecossexc 10/2/18Saturday Day/Night race and Sunday National