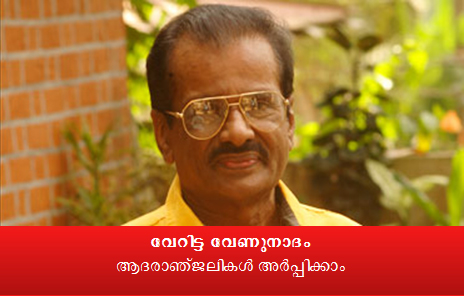 Thiruvanathapuram: Malayalam actor Venu Nagavalli passed away at 1 am Thursday at a private hospital here. He was 61.
Nagavalli has been undergoing treatment for stomach-related ailment for the last ten days here. The funeral will be held Santhikavadam, Thycaud at 4 pm Thursday evening.
Venu Nagavally was born on April 16 1949 as the son of the renowned writer, commentator and broadcaster Nagavally RS Kurup.He started his career as an announcer in AIR.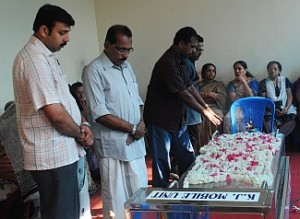 He started his acting career in the film Ulkadal directed by K.G. George in 1978. After that he acted in several films including Shalini Ente Koottukari, Oru Swakaryam, Meenamasathile Sooryan, Chillu and Pakshe.
What made him noted as an actor is his roles as a melancholic lover.
Nagavally became a script writer through Ee Ganam Marakkumo directed by N. Shankaran Nair.
After that he penned scripts for several films including Gayathri Devi Ente Amma, Guruji Oru Vaakku, Deivathe Orthu, Artham, Aham, Kilukkam and Vishnu.
His directorial debut was in 1986 with the film 'Sughamo Devi'. He then went on to prove his talent as a director through films like Sarvakalasala, Lal Salam, Aye Auto and Agni Devan.
Malayalam film industry condoled death and said that his sudden demise is irreparable loss for the industry.
Kerala9.com also pays tribute to the actor and prays:"May God Rest his soul in peace and give strength to the mourning family".
ШОКИРУЮЩИЕ НОВОСТИ