Reflecting on Sally Mann as Storyteller
Interview with curator Sarah Kennel 27 June 2018
Like many students of art history, curator Sarah Kennel's first introduction to Sally Mann came with Immediate Family. Published in 1992, Mann's groundbreaking and controversial exploration of childhood stands as one of the great photography books of our time.
Sally Mann: Southern Discomfort
Feature in Photograph Magazine 25 June 2018
If there is one medium over which the photographer Sally Mann has total command, it is the written word. She is a superb writer, having learned well from her favorite authors and poets, Nabokov, Faulkner, Welty, Rushdie, Eliot, and Pound. Her particular gift is metaphor. Here, for instance, is Mann describing the drying blood on the frozen ground after a convicted sex offender who had escaped onto her farm was shot, killed, and hauled away: the blood puddle "shrank perceptibly, forming a brief meniscus before leveling off again, as if the earth had taken a delicate sip."
The Mournful, Magnificent Sally Mann
Published in The National Review 21 April 2018
"Does the earth remember?" The infinitely gifted photographer Sally Mann asks this question in the catalogue of her great retrospective at the National Gallery in Washington. On view there is her series of Civil War battlefield landscapes, among the most ravishing works of art from the early 2000s. Once sites of brutal violence, they're now scraps of rolling fields or unremarkable clumps of trees, like the battlefield at Antietam. It's still the most bloodied land in the country, with deaths multiples of those on 9/11. "Do these fields where unspeakable carnage occurred bear witness in some way?"
Sally Mann's Haunted South in The New York Times
National Gallery of Art Exhibition is a NYT Critic's Pick 30 March 2018
Sally Mann, born in a hospital that had once been Stonewall Jackson's home, has lived in Virginia most of her life and always proclaimed her Southern-ness in her photographs and in her engaging and boisterous memoir, "Hold Still." She says that what makes her work Southern is her obsession with place, family, the past, her love of Southern light, and her willingness to experiment with levels of romance beyond what most late-20th-century artists could tolerate. Add to that romanticism the influence of Southern writers and you get a tinge of gothic. A streak of expressionism also comes into the mix, powered by the will to express feelings strongly and the capacity to make those visible.
Sally Mann in Hyperallergic
"Family, Landscape, and Race in Sally Mann's Photographs" 10 March 2018
"How can a sentient person of the modern age mistake photography for reality?" asks the photographer Sally Mann in her memoir Hold Still. "Photographs economize the truth; they are always moments more or less illusorily abducted from time's continuum." Mann's slightly exasperated remarks suggest the irony in Immediate Family, the title of the book that made her famous — and for some, infamous — more than a quarter-century ago.
Sally Mann: Accountable Photography
Exhibition review in Aesthetica Magazine 8 March 2018
It's December and in Virginia, at Sally Mann's countryside home, she has invited Bill T. Jones for a photo session. Death – its menacing approach or dark legacy – looms large in Mann's work, and it's no surprise to find the dancer-choreographer's high cheekbones made skull-like behind her lens. "Almost a death mask," she concludes in a video of the encounter shown in a major survey at the National Gallery of Art in Washington. Sitter and photographer, both 66, are keenly aware they have entered their final chapter.
Sally Mann: A Thousand Crossings in The Wall Street Journal
Review: Seeing the South Through Sally Mann's Lens 5 March 2018
'Sally Mann: A Thousand Crossings," at the National Gallery of Art, reminds us that great photographs do not have meanings; they have agency. This is the first major show for Ms. Mann (b. 1951), with more than 100 images taken over four decades, all dealing with the American South. Ms. Mann, who was born and still lives in Lexington, Va., is obsessed with the South: its landscape, its people, its literature, its history—especially the gnarled history of race.
Sally Mann: A Thousand Crossings Monograph
Publication Date: March 27, 2018 1 March 2018
For more than 40 years, Sally Mann (b. 1951) has made experimental, elegiac, and hauntingly beautiful photographs that explore the overarching themes of existence: memory, desire, death, the bonds of family, and nature's magisterial indifference to human endeavor. What unites this broad body of work—portraits, still lifes, landscapes, and other studies—is that it is all "bred of a place," the American South. Mann, who is a native of Lexington, Virginia, uses her deep love of her homeland and her knowledge of its historically fraught heritage to ask powerful, provocative questions—about history, identity, race, and religion—that reverberate across geographic and national boundaries. Organized into five sections—Family, The Land, Last Measure, Abide with Me, and What Remains—and including many works not previously exhibited or published, Sally Mann: A Thousand Crossings is a sweeping overview of Mann's artistic achievements.
Sally Mann in The Washington Post
Preview of "Sally Mann: A Thousand Crossings" at The National Gallery 28 February 2018
When the National Gallery of Art realized that, with a major acquisition of works from the Corcoran Gallery of Art in 2014, it had one of the largest public holdings of photographer Sally Mann, efforts began on mounting her first major international exhibition. "Sally Mann: A Thousand Crossings," which opens Sunday, covers four decades of work from the 66-year-old photographer, who initially stayed close to her childhood home in Lexington, Va., but deepened her understanding of the South by traveling more widely to ponder its fraught history in haunting photographs further enhanced by antique, experimental processes. Here, Sarah Greenough, senior curator and head of the department of photographs at the National Gallery of Art, gives insight into five of the 110 pieces included in the exhibit.
Sally Mann in The New Yorker
The Color of Humanity in Sally Mann's South 28 February 2018
We're in Virginia, where the photographer Sally Mann was born, in 1951, and where she still lives, making work so rooted in place that it is inseparable from history, from lore, and from the effects of slavery. Like Janus, she looks forward as she looks back, at all those bodies that made her and her place in Virginia, and into the landscape, filled with rutted earth, big or low clouds, storybook fantastic vegetation, and the Southern light that reminds so many of photography itself—dark, as Joan Didion wrote, and glowing "with a morbid luminescence." That entire vision is a part of Mann's photographs, as she asks in these images of family members, roads, rivers, churches, and the effects of blackness on whiteness and whiteness on itself: Abide with me. And it all does—voices, sounds, the invisible things that Mann's haunted and haunting photo­graphs allow us to see.
Sally Mann: A Thousand Crossings in Art Fix Daily
First Major International Exhibition of Sally Mann's Work of the South 24 January 2018
For more than 40 years, Sally Mann has made experimental, elegiac, and hauntingly beautiful photographs that explore the overarching themes of existence: memory, desire, death, the bonds of family, and nature's magisterial indifference to human endeavor. What unites this broad body of work—figure studies, landscapes, and architectural views—is that it is all bred of a place, the American South. Using her deep love of her homeland and her knowledge of its historically fraught heritage, Mann asks powerful, provocative questions—about history, identity, race, and religion—that reverberate across geographic and national boundaries.
Sally Mann: A Thousand Crossings, the first major survey of this celebrated artist to travel internationally, investigates how Mann's relationship with her native land—a place rich in literary and artistic traditions but troubled by history—has shaped her work.
MFA Boston Exhibition "(un)expected families"
Includes work by Diane Arbus, Dorothea Lange, Abelardo Morell, Sally Mann, & Harry Callahan 3 January 2018
Bringing together more than 80 pictures taken by photographers from the 19th century to today, (un)expected families at the Museum of Fine Arts, Boston (MFA), explores the definition of the American family—from the families we're born into to the ones we've chosen. The photographs in the exhibition, on view from December 9, 2017 through June 17, 2018, depict a wide range of relationships—multiple generations, romantic unions and alternative family structures—whether connected by DNA, shared life experiences, common interests or even a social media network. Drawn primarily from the MFA's holdings, the exhibition includes photographs by celebrated artists such as Nan Goldin, Gordon Parks, Nicholas Nixon, Sally Mann, Diane Arbus, Tina Barney, Emmet Gowin and Bruce Davidson. Photograph: Andrea Shea/WBUR.
Sally Mann Illustrated in Miami Clasica
Art Basel Miami Review 19 December 2017
Debe anotarse que la calidad de ArtBasel sigue intacta y si bien en esta edición hubo menos deslumbres que en otros años, se apreció el alto nivel acostumbrado. Galerías ya clásicas como, entre otras, Thomas Schulte con Allan McCollum, Landau con sus Magrittes o Mary-Anne Martin con sus Gerszos y Tamayos aportaron la cuota de obras maestras que dieron lustre al evento, así como importantes Milton Avery, Hans Hoffmann, Helen Frankenthaler, Robert Rauschenberg, Sol Lewitt y Ellsworth Kelly. La escuálida participación de galerías locales contrastó con la robusta oferta de galerías brasileñas, entre ellas Anita Schwartz con la instalación de Nuno Ramos sobre los desastres de guerra de Goya, seguido por la argentina Jorge Mara La Ruche con fotografías de Grete Stern. Imperturbable con su aire giocondesco, la bella obra de Sally Mann en Houk Gallery neoyorkina, signó la elegante mirada de toda la feria.
All The Art And Design You Need To See During Art Basel Miami Beach
Candy Cigarette in Forbes 3 December 2017
Starting today, people from all around the world will flock to the sunny shores of Miami Beach over the next week for Art Basel's stateside fair.
What started in Basel, Switzerland in the 70's saw itself extend to Miami in 2002 and has grown to become the premier contemporary art fair in the Americas.
Its massive popularity spurred the creation of another fair alongside it, Design Miami/, which focuses solely on design and has become the showcase for the best the world of contemporary design has to offer.
Sally Mann: A Thousand Crossings
The National Gallery of Art announces major exhibition in 2018-2020 16 November 2017
For more than forty years, Sally Mann (b. 1951, Lexington, Virginia) has made experimental, elegiac, and hauntingly beautiful photographs that span a broad body of work including portraits, still lifes, and landscapes. Sally Mann: A Thousand Crossings explores how her relationship with the South has shaped her work.
Exhibition schedule: National Gallery of Art, Washington DC, 4 March – 28 May 2018; Peabody Essex Museum, Salem, 30 June – 23 September 2018; J. Paul Getty Museum, Los Angeles, 20 November 2018 – 10 February 2019; The Museum of Fine Arts, Houston, 3 March – 27 May 2019; Galerie nationale du Jeu de Paume, Paris, 16 June – 15 September 2019; High Museum of Art, Atlanta, 13 October 2019 – 5 January 2020
Sally Mann featured in Musée Magazine
Artwork exploring what happens to our body, soul and mind after death 15 June 2017
Not many would voluntarily spend time around decaying corpses, alone, in a forest. Sally Mann, however, is not most
people. Her body of work, Body Farm, captures the silence surrounding her, the heavy feel of death saturating the air,
the stillness and calmness of a lifeless forest speckled with corpses.
6 Essential Photo Galleries in New York City
Featured on Andrew Harper 18 April 2017
Fifty years ago, the market for fine art photographs barely existed. Major auction houses only began including photographs in their sales in the early 1970s, and American museums were surprisingly late to the party, too. The first to collect was the Boston Museum of Fine Arts, which accepted 27 images from Alfred Stieglitz in 1924 — almost a century after photography was invented.
Today, anyone who argues that photographs can't be fine art sounds like a crank. Treasures of the medium were displayed in the spring at The Association of International Photography Dealers show at Pier 94 in Manhattan, but New Yorkis a paradise for photography collectors year-round. These six galleries are proof.
The Photography Show — An Interview with Edwynn Houk
23 February 2017
Gallery owner and AIPAD member Edwynn Houk on the unique opportunities The Photography Show offers collectors and others in attendance at one of the world's most prestigious annual photography events.
12 Must-See Works at PHOTOFAIRS | San Francisco
Artsy, featuring Sally Mann at Edwynn Houk Gallery booth A02 27 January 2017
Mann made a name for herself through the photographs of her children, taken between 1984 and 1992, which she stopped around the time her eldest daughter turned 12. "This is somewhat of an extension of that series, which was done when the children were coming of age, in their twenties, not living at home anymore," said gallery director Julie Castellano. "They're done so close up they're almost an homage to death portraits." One of an edition of five, the ,000 large work was created in the wet collodion process, one of the earliest processes of photography. "Sally loves the way that it abstracts; she loves the imperfections. She can make a perfect print but she loves to play with the emulsion and add abstraction."
Sally Mann awarded the Andrew Carnegie Medal for Excellence in Nonfiction
January 11, 2016
Sally Mann receives the 2016 Andrew Carnegie Medal for Excellence in Nonfiction for her book "Hold Still: A Memoir with Photographs," published by Little, Brown, and Company, Hachette Book Group.
After Sally Mann's Memoir, a New Look at Her Most Famous Photographs
Vogue 1 June 2015
What else is there to see in a photograph that's been talked about so endlessly you can picture it in your mind? This week, a month after the release of Sally Mann's extraordinary artist's memoir, Hold Still, and 23 years after the initial publication of Immediate Family, arrives an expanded, paper edition of the book that catapulted her career into the realm of critically lauded and publicly debated celebrity.
Sally Mann on Her History, Frame by Frame
The New York Times 15 May 2015
The photographer Sally Mann describes her pictures as "silver poems of tone and undertow," and they have always seemed designed to stop the passage of things that can barely be slowed: youth, memory, seasons, light, even decay. When she began her first attempt at a piece of sustained writing, "Hold Still," her memoir published this week by Little Brown, she said she realized with great relief that she had followed the same impulse in her nonphotographic life, letting nary a scrap of paper escape her archival clutches.
"I don't know what the instinct is, to save every report card, every half-sentence scribbled note, but my mother did it pretty effectively, and I've done it to a fare-thee-well," she said, adding, "My poor kids."
Sally Mann's memoir 'Hold Still' as lyrical as her photos
Los Angeles Times 14 May 2015
Photographer Sally Mann has built her career capturing the intimate details of the bodies, landscapes and objects that surround her. Her subjects have included her young children depicted as wild things ("Immediate Family"), landscapes of her beloved Virginia ("Deep South") and vivid, raw images of her own body and that of her husband's ("Proud Flesh"). Her excellent memoir, "Hold Still," a careful, detailed literary and visual portrait of the photographer's early influences and experiences, begins with Mann opening what she calls "ancestral boxes" filled with old photographs. She notes that rummaging through old photos, deciding which to keep and which to trash, is a delicate and emotional enterprise fraught with the misguided belief that visual representations of ourselves offer clues to who we are.
Instill Life: The Dark and Light of Sally Mann
The New Republic 14 May 2015
Controversy has a logic of its own that tends to obscure the particulars of whatever caused the uproar; those caught in its shadow might recede for a time, only to be sucked back into its vortex the next time the debate is once again brought to the forefront of public consciousness.
So when discussing photographer Sally Mann it's probably worth mentioning the nudity. Not just Irving Penn-style buttocks that might as well be musical instruments; not Richard Avedon's cultural icons baring it all. Mann is known for nude images of her children. In some of the photos, the children stare back at the viewer confrontationally, while in others they are seemingly oblivious. In one particularly striking image, Mann's daughter, Jessie, hangs from a hayhook in a barn, entirely naked, her head thrown back and her prepubescent mons pubis visible. It is arrestingly beautiful and also troubling, a difficult combination to turn away from.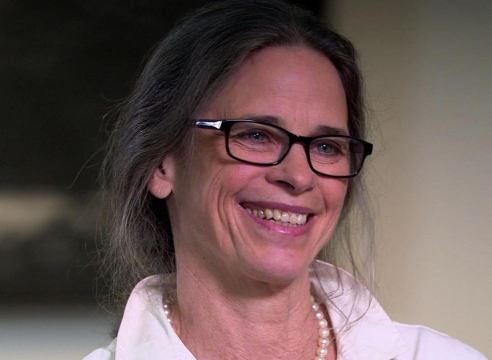 Sally Mann on CBS This Morning
12 May 2015
The world-renowned photographer soared to fame in the '90s and released a series of images called "Immediate Family." Twenty-five years later, Mann looks at her remarkable career in a new memoir called "Hold Still."
'Hold Still,' a Memoir by Sally Mann
Review in The New York Times 7 May 2015
Before reading "Hold Still," my knowledge of Sally Mann was based entirely on her photographs of her family on their Virginia farm, her dreamlike Southern landscapes, and some memory of the controversies that have surrounded the question of whether her intimate portraits of her children, often nude, were exploitative. I'd assumed she was continuing to make new work and enjoying placid rural domesticity periodically interrupted by brief but abrasive trials in the court of public opinion.
Now her wonderfully weird and vivid memoir — generously illustrated with family snapshots, her own and other people's photos, documents and letters — describes a life more dramatic than I had imagined. Perhaps that should be unsurprising, given how deeply her psyche and her oeuvre seem to have been marked by the South, its live oaks dripping Spanish moss, its terrible record on race and its multigenerational dynasties hiding gothic Faulknerian secrets.
Sally Mann's memoir Hold Still The New York Times
Book review 6 May 2015
There aren't many important memoirs by American photographers. I wish especially that, along with Robert Frank and Diane Arbus, Walker Evans had left one behind. How good was Evans's prose? He once described James Agee's sartorial style as "knowingly comical inverted dandyism." He added: "wind, rain, work and mockery were his tailors."
I held Evans's writing in mind while reading "Hold Still," the photographer Sally Mann's weird, intense and uncommonly beautiful new memoir. Ms. Mann has got Evans's gift for fine and offbeat declaration. She's also led a big Southern-bohemian life, rich with incident. Or maybe it only seems rich with incident because of an old maxim that still holds: Stories happen only to people who can tell them.
Sally Mann in The New York Times Magazine
The artist reflects on her family, art, and career 16 April 2015
In September 1992, I published my third book of photographs, "Immediate Family." The book contained 60 photographs from a decade-­long series of more than 200 pictures of my children, Emmett, Jessie and Virginia, who were about 6, 4 and 1 when I started the project. The photographs show them going about their lives, sometimes without clothing, on our farm tucked into the Virginia hills. For miles in all directions, there was not a breathing soul. When we were on the farm, we were isolated, not just by geography but by the primitive living conditions: no electricity, no running water and, of course, no computer, no phone. Out of a conviction that my lens should remain open to the full scope of their childhood, and with the willing, creative participation of everyone involved, I photographed their triumphs, confusion, harmony and isolation, as well as the hardships that tend to befall children — bruises, vomit, bloody noses, wet beds — all of it.
Sally Mann's Bedbound Photographs
A look at the American photographer's haunting portraits in Phaidon 24 October 2012
The award winning photographer did produce plenty of work during the following few week's convalescence, even though she couldn't move far from her own beside. Mann made her photographs on a large-format film camera, so lugging the equipment out of doors and into the countryside surrounding her house was out of the question.
Instead she decided to capture photographs of herself. The resultant images of her own face (Self-Portraits) and her own damaged torso (Omphalos) are curently on show at the Edwynn Houk Gallery in a show dubbed Sally Mann: Upon Reflection until 3 November 2012. These shadowy, beguiling images are glass-plate ambrotype positives straight from the camera, developed using a long-winded process almost as old as photography itself. This dated and intricate process causes imperfections in the printing with scratches on the surface and even parts peeling off. The resulting pictures are suitably bruised and battered, dark exposures with minimal contrast or focus, causing eyes and facial features to rise from the darkness.
Sally Mann: Upon Reflection in The Eye of Photography
Exhibition review 25 September 2012
We're already familiar with Sally Mann's fascination with trauma, the fragility of life, and anything related to death. Since the beginning of her career, Mann has always turned her gaze toward others: her husband Larry, her children Emmett, Jessie and Virginia, and nameless bodies in various states of decomposition.
For Upon Reflection, her latest exhibition, Mann has taken herself as her subject. In 2006, Mann suffered an accident while horseback riding in the mountains and spent months recovering. She describes the incident as both psychologically and physically traumatic. Over the course of a year, she took more than 200 self-portraits—mainly of her face and torso—as a kind of art therapy.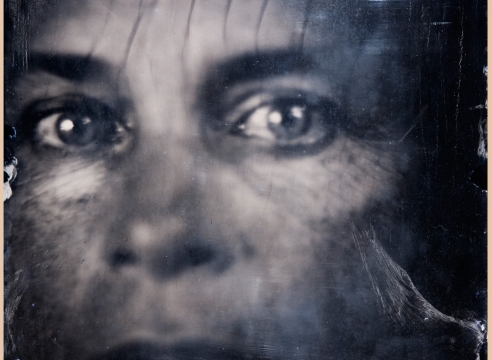 Sally Mann's "Upon Reflection" in The Collector Daily
Exhibition is a pivotal moment in artist's career 24 September 2012
What is new here is that after a riding accident laid her up with serious injuries in 2006, she boldly turned the camera on herself, making countless head shot portraits and nude torsos. There are no smiling, happy faces in this parade, however; her expressions cover the territory from deadpan to grave, with a few stops for steely, weary, wise, zombie-eyed, and almost meditatively ecstatic in between. The tonalities shift from washed out grey to brown to bronze to shadowy black, and the chance movements of the chemicals create unexpected spectral drips, swirls, and highlights that often obscure the image. Some of the works have also been scratched and abraded, with the emulsion flaking and chipping off, exposing areas of crackly black glass. Seen together as grids and typologies, the faces become a taxonomy of subtle emotional states; a wisp of hair or the details of wrinkles make some of the pictures humanly specific, while others drift into silhouette or death mask, the personal features erased and blurred. Mann's torso images are generally more abstract, reducing her body to a sculptural mass of white with a shadowy hint of a belly button or a dark triangle. The classical forms seem smooth and weathered, like fertility symbols from antiquity, at once haunting and timeless. The variation in these images is more subtle, elemental curves repeated with minute changes in brightness and contrast.
Sally Mann: Upon Reflection Review
Artcards Review 19 September 2012
In the past, Sally Mann, named America's best photographer (Time Magazine, 2001), has chosen young girls (At Twelve), her three children (Immediate Family), The South and Civil War Battlefields (Deep South and Last Measure), decaying human bodies (What Remains), and her husband (Proud Flesh) as her subjects. But in Upon Reflection, she has at long last turned her camera toward herself. The results are eerie, beautiful, horrifying and brave.
Sally Mann: Upon Reflection in The New York Photo Review
Exhibition review 13 September 2012
n the summer of 2006, Sally Mann severely injured most of her torso when thrown from the back of her horse. An email included in the press release from the Edwynn Houk Gallery recounts her experience of watching her beloved stallion die, ending with a promise to get some printing done "if ever [she could] get vertical and move [her] arms." Given the severity of her injuries, this may have appeared to be wishful thinking at the time, but this promise would not go unfulfilled.
Sally Mann Delivers Massey Lectures at Harvard University
1 January 2011
Sally Mann has been invited to deliver the Massey Lectures in the History of American Civilization at Harvard University in 2011. As an invited speaker, she joins a group that includes Irving Howe, Eudora Welty and Toni Morrison.
Sally Mann: The Flesh and The Spirit at The Virginia Museum of Fine Arts
13 November 2010 - 23 January 2011 13 November 2010
Edwynn Houk Gallery's Sally Mann Exhibition in NYT Review
Art in Review: Sally Mann — 'Last Measure' 24 October 2003
The earth and its relationship to mortality are Sally Mann's terrain in this series on the battlefields of the Civil War. It is a subject far removed from the lyrical landscapes of the American South and the intimate glimpses of family life that she has dealt with in previous photographic essays.
Sally Mann Named America's Best Photographer by Time Magazine
9 July 2001
In the swarm of artistically minded boomers who matured in the 1970s, there were thousands who hoped to become filmmakers or photographers. Many of the photographers--working with sophisticated cameras that can produce an occasional striking image almost without human intervention--won a brief success. But three successive decades have drastically winnowed their numbers, and only a few now stand in the ranks of mastery that include such predecessors as Dorothea Lange and Walker Evans.
Tall among them is Sally Mann.
Edwynn Houk Named Top 100 Most Important People in Photography
American Photo Magazine 1 May 1998
Edwynn Houk built his reputation as the owner of the premier gallery in the Midwest. Based in Chicago, he became the country's acknowledged expert on Bill Brandt's work. In 1991, Houk teamed with Barry Friedman, an influential dealer specializing in Art Deco and avant-garde art, to open the Houk Friedman Gallery in New York. Last fall, however, Houk, 46, split with Friedman and opened his own gallery in Manhattan. "An art gallery is a single proprietor, a single entity, and it turns out we both had separate ideas of how it would function," he says. Houk now exclusively represents contemporary artists Sally Mann, Lynn Davis, Andrea Modica, and Elliott Erwitt and historical names like Bill Brandt, Brassaï, and Dorothea Lange. If there were any doubts about how Houk would do on his own, they were put to rest with his opening exhibition, featuring the latest work by Mann. (He has estimated that he sells one of Mann's prints a day.) At the same time, he premiered her work on the West Coast at the prestigious Gagosian Gallery in Los Angeles, once again forging an impressive alliance.
The Disturbing Photography of Sally Mann
Sally Mann on Cover of New York Times Magazine 27 September 1992
At the opening last spring of "Immediate Family," Sally Mann's show at the Houk Friedman Gallery in New York, the winsome young subjects of the photographs aroused as much curiosity as the artist herself. Motoring among the spectators like honorees at a testimonial dinner, Mann's three children — Emmett, 12, Jessie, 10, and Virginia, 7 — looked completely at ease with the crowd's prying adoration. While her mother and father conversed with friends and admirers, Jessie orbited the four rooms in her red dress, fielding questions from strangers eager to know more about her parents. Beneath a portrait of himself in the water, Emmett shrugged off the stares and expressed a typical teen-age frame of mind. "These shoes cost ," he boasted about his opening night footwear. All three seemed unconcerned by the fact that on the surrounding white walls they could be examined, up close, totally nude.
ШОКИРУЮЩИЕ НОВОСТИ