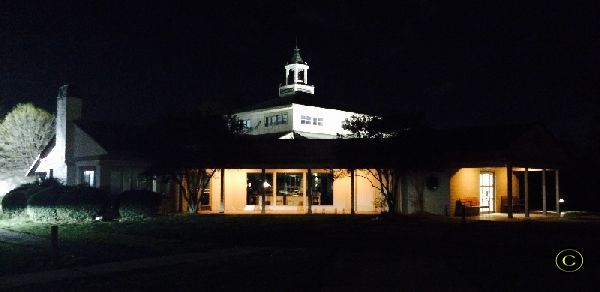 Indian Springs School's 2019 Alumni Weekend will be April 25-28, 2019.

Indian Springs School's 2018 Alumni Weekend was April 20-23, 2018.

walking to dining hall with Audio of the 1999 Alumni & Student Choir singing the ISS Alma Mater.
After eight years as Director of ISS, Dr. Gareth Vaughan announced he was stepping down as Director.
Indian Springs concluded its search with the appointment of Dr. Sharon Howell as the sixth Director of Indian Springs School, effective July 1, 2016. Dr. Howell is currently the Associate Head of School at Northfield Mount Hermon School in Gill, Mass.
Mr. Mac Fleming WWII Lecture on YouTube. that Mr. Fleming gave to the senior class at Indian Springs School.

Thanks Mr. Fleming.
NEW:
NEW 2015 - THE "DOC FILES" COLLECTION.
In the book of Doc's writings that Kay Armstrong Carter edited, it says (on page 5) that January 23, 1906, was Louis Edgar Armstrong's birth date, in Meade, Oklahoma. He was the second of seven children. He died in Richmond, Virginia, on April 6, 1982, of an apparent heart attack at age 76.
Doc Armstrong was headmaster from 1952 to 1972.
Collection of links found elsewhere scattered around the site, but all here in one spot.




- By Frank Carter
He's talking to Everett Holle of Ch. 13 before Glee Club performance at Christmas time. Doc talks about a letter from a ISS grad in Viet Nam and about love and to live in the light. (1:39), 294k file size.
ISS Class of was held May 30, 2009 (Alumni Weekend @ ISS is May 29-30) This was also Graduation weekend and Homecoming Concert. A party (5:30-8:00) for ALL Alumni was held Friday night at The Wine Loft (2200 1st Ave. North). Alumni Day on Saturday May 30th started at 11:00 am until 4:00 pm. Began at 11:00 with a Multimedia Presentation in the John Badham Theater, followed by the Alum of the Year, Arthur Freeman '59, then Lunch. Canoe Races and other events planned as well.
ISS Fall Alumni Luncheon - October 24, 2008 - was held at Fleming's Steak House at the Summit Mall. Great food and program from ISS students.
Photo of win over Randolph (3 to 1) in State Championship. See taken by MDS on 5-10-08 and newspaper write ups on this page. Click link.
Alumni Day Weekend was May 2-4, 2008. taken at Alumni Day '08.
The Holiday Party was December 26th in the Gym. New ISS Director for 2008, Gareth Vaughan, was there.
FALL '07 ALUMNI LUNCHEON-The annual Fall Alumni Luncheon was held on November 2, 2007 at Vulcan Park in Birmingham. It was a beautiful, sunny day. Local Documentary Film Director/Producer and former ISS student, Celia Carey, spoke and showed a clip from her latest documentary "Mr. Dial Has Something To Say." (Watch the trailer: Also featured were recipients of the Andy Abroms '77 Memorial Scholarship for Summer Study. Report topics ranged from visits in the states to Tibet.
Alumni Weekend was Friday April 20, 2007 (reception at Ted's Garage: Wyatt R. Haskell '57 accepted the Outstanding Alum of the Year award.) to Sunday April 22, 2007 (activities started at 10:30 on campus Saturday , Mac Fleming Day: Great tribute to Indian Springs' original renaISSance man. Tent was on Armstrong Green with chairs and speaker area. Choir performed outside as part of the activities under the tent, next to the Science wing.
FLASH! John Tauxe is UP and hosted HERE. Finished. Browse and enjoy.
ALUMNI WEEKEND REPORT - 2006 - It Was A Great Weekend - - April 7,8, and 9th.
Friday, April 7, 2006 - 5:30 p.m.

- Alumni Party at Ted's Garage. Photos are below from the fall luncheon. Check out Ted's at where the party took place. The bad weather held off till late that night and we didn't get a drop. Fantastic food buffet, fit for a king.

Saturday, April 8, 2006 - 10:00 a.m.

- Pop-Out Fair/Kids' Kamp. Mimosas in the Town Hall which were wonderful. Strawberries dipped in chocolate were my favorite.

11:30 a.m. Choir Sings. Town Meeting in Badham Theatre. Presentation of Outstanding Alum of the Year to John Green '95, Author of "Looking For Alaska" ( a novel about students at a boarding school in the south that sounds amazingly like ISS, but of course it is not). This is a great book (photo of cover) and John's book won the Michael L. Printz Honor for Excellence in Young Adult Literature. Photo of him getting the news on his cellphone on sidewalk in N.Y.(last photo is John from his website


TeenReads.com said, "Miles Halter (Pudge), the novel's protagonist, is fifteen years old and what parents and teachers would call a good kid. He's chicken-legged skinny, undeniably bright, and a bit of an idealist at heart. In addition to having a penchant for remembering famous figures' last words, Miles gets wrapped up in the significance of those words enough to leave his sheltered home in Florida in order to seek out Rabelais's Great Perhaps --- which oddly enough, translates into going to boarding school in rural Alabama." {Ed note) Two of the most memorable "Last Words" are "I go to seek a Great Perhaps." - Francois Rabelais (last words) and "How will I ever get out of this labyrinth?" - Simуn Bolнvar (last words).

ALL THE INFO YOU NEED. 2005 Fall Alumni Luncheon at Ted's Garage. It was a GREAT place for our luncheon. Amid the antique cars and fully restored garage, it's a location delight for the wonderful catered lunch. (Click on any of the thumbnails for the full size photo)





Last April '05 here's what we did:

Saturday April 9, weather was GREAT all day
10:00 a.m. Pop-Out Fair
10:00 - - - - Mimosas and fancy food trays in the Town Hall
11:30 - - - - Town Meeting in the Badham Theater
- - - - - - - - Presentation of the ISS Campus Master Plan
- - - - - - - - Presentation of the Outstanding Alumnus Award-Kip Porter '60
1:00 p.m. Lunch in the Dining Hall (Amazing spread. Do kids and faculty eat like this every day? Probably not.)
1:00 - 2:00 Farewell Tour of the Dorm Circle
3:00 p.m. ISS Girls' Soccer vs. Altamont at Woodard Field
4:00 p.m. ISS Boys' Soccer vs. Altamont at Woodard Field


Fall Alumni Luncheon, October 29, 2004 was held at the Birmingham Civil Rights Institute. The agenda included opening remarks from Mayor ET Brown IV '05, presentation of the 2004 Outstanding Alumnus of the Year to M.D. Smith IV '59 (actual speech given is in files section below) (photo of Mr. Fleming, Steve Coleman and M.D. Smith) and presentations by representative 2004 student recipients of the Andy Abroms '77 Memorial Scholarships for Summer Study.

Alumni Weekend for 2004 WAS April 16,17 & 18th with event at Vulcan on Friday night the 16th before Alumni Day at the School. (See several paragraphs below in Special Files section for speech of M.D. Smith (who could not be there to receive OAY award) for what he would have delivered himself)

"Ah...I think if all you boys make it this year and keep getting invited back, it will be a miracle!"



(Comment by M.D. Smith '59) In all these links below, you can find out a lot about a school that absolutely changed my life. As much as we alumni joke about it, it is truly one of the finest college-prep schools in the nation. It was all boys when I attended, but now is co-ed. Located about 20 miles south of Birmingham, they now have their own ZIP code and location at INDIAN SPRINGS, ALABAMA. I have stayed very active in Alumni events and anniversary years for our class of '59. It's a small school with only a bit over 200 students, many of which board at the school in Dorm Circle. If you want more information from the school, see the address and phone numbers elsewhere on this page.

for the class of 1959 for the 30th Reunion in 1989. I used lots of 50's song titles to make the fictional letter, which was really an invitation to the party at Arthur Freeman's house. What a "blast" it was.
which was finally delivered. This is a shortened, but different version than the one scripted to have been delivered listed below. Since they have different references and incidents, both are included.
which would have been delivered upon receiving the Outstanding Alumnus of the Year award, if he had not been hospitalized that weekend for a blood clot. He's doing fine now. But here's what he would have delivered to Students on Friday, combined with Speech that was partially delivered by Roy Knight to alumni on Saturday.
> Photo and article 340k large so that you can read all the type from the article. Every member is named in this article. Thanks to George Starcher for the contribution.
This was at The Birmingham Civic Center on May 22, 1993. It was the occasion of the school's 40th year and a representative of each of the 4 decades told a bit about ISS during their years. I got the 50's. Read and see what it was like and enjoy the humor (I hope) you find there.
This "tale" was published in THE ISSINFO, November 1, 1994 edition. It recollects a typical afternoon after school until dinner time at the Dining Hall.
and This poem was written by Louis "Doc" Armstrong in the 50's. Doc was Director of the school from the time it opened till he retired many years later. We students didn't understand it very much at the time, but now, as we are older and wiser, it makes a lot of sense.
plus Article from the Birmingham News, June 8, 1994. Mac tells about his 41 years with ISS. [Mr. Fleming returned a year or two later to teach one class a day and still does as of 2003 - 50 years at ISS ]
"The Japanese radio men who sent morse code, each had a unique style of sending code. The U.S. radio men who were receiving these messages, knew which operator they were hearing and knew which carrier they were on. The only problem was, the Japanese knew, we knew which man was sending the morse code message, so they moved these operators to stationary ships in Japan and put different radio operators on the carriers and sailed out of Japan, on their ultimate way to Pearl Harbor. " (running time 42 minutes - 39 mb file size)
Taken by M.D. Smith with a Brownie roll film camera with B&W film.
I did this project in Mr. Cobun's biology class. Just found this "WriteRight" notebook and I think you'll find these photos and comments interesting.
This is the most current list of our class members and their home addresses. If there are any errors, and you spot it, please let me know to correct it. Note we are still missing several members whom seem to have dropped from the earth and if you know their where-abouts, please let me know. Thanks.
Held in May of 1994 at the home of Joyce and Jerry Lanning in Birmingham, it was a "boppin' good time." Read all about it again or for the first time.
These are the 5 tapes of songs played at Arthur & Linda Freeman's house in 1989 at the 30th class reunion. Much of the same music was played in '94 at the 35th reunion, but it had all been re-recorded from CD's onto DAT audio tape by then. Some of these songs in '89 came from the original 45's with surface noise, scratches and all.
In honor of ALL the classes and years at Indian Springs, this music contained at LEAST one song from each year from 1952/53 to 1992/93. It's interesting to see how the music changed as the years went along. All of these songs made the Billboard Top 10 Pop Chart of these years.
These 1999 snapshots are in a directory. Just click on the photo you want to see. Thumbnail small sizes are also there to look at first to see if you want to take the download time to look at the full size photo. Hit back arrow button to return to main ISS page.
and This is the big group (names & addresses) of those who worked on the school's 40th Anniversary celebration in May of 1993. It was a huge project, both the day at the school and the night at the Birmingham Civic Center.
- - Read and Remember Them.
- - from "Selected Writings of Louis E. Armstrong" copyright 1983.
- - Clearing a 50 foot, mile long powerline trail.
- - His recollections of Doc talking to a freshman about the uniqueness of ISS.
- - Things from 40th Anniversary Pamphlet (poems, prose, facts, fun)
- From the ISS Home Page


THE ISS SCHOOL EMAIL LIST USED TO BE HERE. It has been deleted because of SPAM problems. If you want a classmate's email address, please contact the school. They will be more than happy to get you in touch.

- Thanks to Mark Noel and Benjamin Thomas


Stories from Alumni - A Dozen Great Stories




Stories from (Last Name) Carter, Thuss, Ort, Jones, Malloy, Jones, Mueller, Lentz, Bigger, Read and Byers. Great collection of stories of Events, Teachers, Classes and Classic Memories of their student years.

- By Frank Carter
- By Chip Thuss
- By Janet L. Ort
- By Bailey Jones
- By Larry Molloy
- By Bill Jones
- By Harry W. Mueller, III
- By Perry Lentz
- By John F. Bigger
- By Larry B. Read
- By Tom Byers
- By Anonymous
- By Austin Lyman, Class 2006


Other, Alumni Stories from old Alumni-Web (edited by Joseph Sack, Class of '99)

He's talking to Everett Holle of Ch. 13 before Glee Club performance at Christmas time. Doc talks about a letter from a ISS grad in Viet Nam and about love and to live in the light. (1:39), 294k file size.
This is the recording of the 1957 ISS Glee Club from LP record in MP3 Format (1:07), 1.056 mb file size.
This is the recording Alumni Day 1999 at the Town Hall Dedication. It's the combined Alumni and Student Choirs in MP3 Format (1:05), 1.024 mb file size.
"Barefoot" recording of the 1957 ISS Glee Club from LP record in MP3 Format.
Recording of the 1957 ISS Glee Club from LP record in MP3 Format.
Recording of the 1957 ISS Glee Club from LP record in MP3 Format.
Recording of the 1957 ISS Glee Club from LP record in MP3 Format.
Recording of the 1957 ISS Glee Club from LP record in MP3 Format.
Recording of the 1957 ISS Glee Club from LP record in MP3 Format.
Recording of the 1957 ISS Glee Club from LP record in MP3 Format.
Recording of the 1957 ISS Glee Club from LP record in MP3 Format.
Recording of the 1957 ISS Glee Club from LP record in MP3 Format.
Recording of the 1957 ISS Glee Club from LP record in MP3 Format.
Recording of the 1957 ISS Glee Club from LP record in MP3 Format.
Recording of the 1957 ISS Glee Club from LP record in MP3 Format.
Recording of the 1957 ISS Glee Club from LP record in MP3 Format.
Recording of the 1957 ISS Glee Club from LP record in MP3 Format.
Recording of the 1957 ISS Glee Club from LP record in MP3 Format.
Recording of the 1957 ISS Glee Club from LP record in MP3 Format.
Recording of the 1957 ISS Glee Club from LP record in MP3 Format.
Recording of the 1957 ISS Glee Club from LP record in MP3 Format.
James Scott Intro of Cantey, Watkins and Fleming at Alumni Day 2000 in MP3 Format (3:17) , 1.532 mb file size.
Recollections and stories of Mr. Cantey in MP3 Format (28:32), 20.048 mb file size. Revised 2008 for higher audio levels
Recollections and stories of Mr. Watkins in MP3 Format (22:31), 15.847 mb file size. Revised 2008 for higher audio levels
Recollections and stories of Mr. Fleming in MP3 Format (5:20), 3.777 mb file size. Revised 2008 for higher audio levels
Closing of "Recollection" segment in MP3 Format (2:44), 1.294 mb file size.


Photo Section (Old and New Pics)

Photos of "Lake Project", September 2000 until --- MAY 2001.

"The maintenance crew works daily--and all day--dredging the lake. They are making great progress, but most of the task is still ahead of them. Our biology teacher is working on the planting plan (fish, flora, etc.) that will keep the correct ecological balance and hopefully, avoid future problems like this. The students will be involved too, so it should be a great experience for all."

(E.T. Brown comments:) "The picture of the dozer stuck by the beach happened on the first day. On the first day we only had one bulldozer, but brought in another one the second day. Lee Sanner, the head of maintenance, got the thing unstuck using the backhoe soon after I took that picture. Since then, they have gotten stuck a couple of times, but with the other dozer, get unstuck in about 5 minutes. No big deal."

Continued photos of lake project - October 16, 2000 Other photos of lake project by M.D. Smith - October 22, 2000 Lake Starts Filling Up - December, 2000 [photos from E.T. Brown] Most of the comments so far are from E.T. Brown on the faculty at ISS. He's also run the bulldozer a couple of times for 4-6 hours at a stretch.
Large photo of Cover. Below are other photos from brochure.
History of Directors at Indian Springs School; Louis Armstrong (1952-1972), Joseph Jackson (1972-1986), Mac Fleming (Interim, 1986-1987), Douglas Jennings (1987-2002), Mel MacKay (2002-2007), Lee Pierson (Interim, 2007-2008), Gareth Vaughan (2008 - 2016), Sharon Howell (2016 - present)

You're the person to visit page since Dec. 30, 1995.
Best Regards, M.D. Smith in Huntsville, Alabama



Please send any comments to

This page created by M.D. Smith in 1995 and last modified on 8-1-2018 ©
ШОКИРУЮЩИЕ НОВОСТИ