Boss | Spring Summer 2019 Full Fashion Show | Exclusive
Hugo Boss Spring/Summer 2019 Collection – New York Fashion Week
The Taiwan-born, New York-based designer Jason Wu was in charge of the Hugo Boss's womenswear offerings in the past 5 years. Wu was designing the women's ready-to-wear collections and accessories for the German fashion house. Hugo Boss tapped Jason Wu as creative director in 2013. The fashion house and the designer announced that they will part ways in 2019. It's no secret that Hugo Boss has been going through a series of management changes in the last year and a half. The decision for Jason Wu's departure was probably made back then since the designer reported that he just "stayed on to help the brand with the transition of its next stage."

Photo By @jasonwu/Instagram
Aside from his role at Hugo Boss, the designer is running his eponymous label for 10 years now. In the future, he looks forward to focusing only on his label, especially on expanding in Asia and China.
"I've worn many different hats in the past 10 years and throughout my whole career. I am never really the complaining kind. I love doing a lot of things. One of my biggest idols is Karl Lagerfeld. I think to be able to do a lot is fortunate. I'm really happy to have done a lot," the designer explained.
Photo Credit: Getty Images
Unlike Karl Lagerfeld, who is the creative director of Chanel and Fendi, and owns a namesake fashion label, Jason Wu decided to focus only on his brand from now on. His designs got a stamp of approval from the former First Lady Michelle Obama many times in the past. She opted for Jason Wu for many important occasions such as 2009 and 2013 Inaugural Balls and 2019 Presidential Inauguration. It's safe to say that Michelle Obama was the one who secured Wu's position on the fashion map in first place. The designer was only 26-years old when Michelle donned his design for the first time. The decision to step down from Hugo Boss and devote to his namesake fashion label will most certainly bring more exciting things for Jason Wu.
Photo By @jasonwu/Instagram
Jason Wu presented his last collection for Hugo Boss today at NYFW with a Gallery presentation in Cedar Lake. The designer also revealed that the autumn/winter 2019 campaign for the fashion house was shoot in January in New York. This means that Jason Wu is ready to exit from Hugo Boss and focus only on his fashion label. Both the designer and the fashion house shared complimentary words for each other. Hugo Boss's executives haven't revealed yet who will replace Jason Wu.
Photo By @jasonwu/Instagram
Hugo Boss' fall/winter 2019-18 ready-to-wear runway showwas greatly missed during New York Fashion Week's February catwalks, as the Boss headquarters decided to showcase the label's fall 2019 fashions at Hugo Boss' showroom in New York this week.
News that Hugo Boss was skipping its usual New York Fashion Week show broke earlier in 2019, consequently starting the rumor about creative director Jason Wu's imminent departure from the famous fashion house. This led Hugo Boss' chief brand officer Ingo Wilts to assure Wu's fans that the fashion designer wasn't going anywhere, and that the brand's choice to skip the usual schedules had to deal more with Hugo Boss' legacy than anything else.
"Our womenswear is, and will remain, a key component of our medium-term growth strategy, and the creative input offered by Jason Wu remains extremely important to us," he declared back in November in an official press note. "We value his work very highly. However, it is essential that we achieve a better balance between our menswear, which has traditionally been so pivotal for us, and our womenswear."
As promised, Hugo Boss' fall/winter 2019-18 rtw collection came flawlessly on time, making those who feared some sort of low-quality consequences heave a sigh of relief. Jason Wu's visions of the upcoming season were not compromised by Hugo Boss' strategic reconstruction at all, but rather presented a self-confident woman who doesn't take herself too seriously.
"Last spring was much about knocking the stuffing out of the suiting. It's about making it more approachable and much less office-y," Wu declared backstage. "With the increasing emphasis on leisurewear and comfort, it's important to soften the silhouette."
Relaxed, wearable yet with clear high-end accents that are one of Hugo Boss' signature trademarks, Jason Wu's Hugo Boss fall 2019 ready-to-wear collection predominantly focused on separates, the tailored lines of which got often lightened up either with rich orange shades and floral patterns, or more sporty-chic little touches that, at times, could help create covetable total-athleisure looks to channel all winter long.
When not embellishing the items with his rusty orange patterns, Jason Wu dipped most of his Hugo Boss fall 2019 ensembles in oversized, black and white checkered patterns that inevitably reminded us of the Nineties fashions, here reinforced throughout the lace embroideries of some of the slip dresses, as well as the boxy bomber jackets and oversized sweaters.
Softened silhouettes and Nineties-inspired leitmotifs aside, this Hugo Boss fall 2019 rtw collection also features another important pattern – strong winter-approved aesthetics. Like many other collections, Hugo Boss' lineup also appears to be carefully structured toward the utilitarian wear, here mainly translated to cozy trench coats and bombers.
We are more than convinced that Hugo Boss' new structure will always treat us to extremely wearable pieces to invest in, regardless the season or the runway show format.
Photos courtesy of Vogue
Hugo Boss will not be showing its fall 2019 womenswear line during New York Fashion Week in February 2019. This comes at a time of restructuring for the brand, as it moves to better focus its original intended market.
Essentially, the brand is looking to "abandon the luxury market and go back to its roots of selling premium men's clothing," according to Mark Langer in an interview with . But fear not, Boss lovers; there is plenty more to come from the womenswear side of the brand. Creative director Jason Wu would never completely take that portion away from the line, anyway.
The company is hoping to see its numbers return to power by 2019, so the steps taken in the near future will be integral in determining the success of this plan – one of the first major steps is this transition away from womenswear at NYFW, apparently. It's hard not to be disappointed that we won't get to see a Boss women's collection walk the big stage in February, but we can at least look forward to seeing the collections as they are designed at all.
"Our womenswear is, and will remain, a key component of our medium-term growth strategy, and the creative input offered by Jason Wu remains extremely important to us," said chief brand officer Ingo Wilts in an interview with . "We value his work very highly. However, it is essential that we achieve a better balance between our menswear, which has traditionally been so pivotal for us, and our womenswear."
Wilts has definitely hit the nail on the head in her statement. The first thing most people think of when they hear the brand "Boss" is an impeccably tailored men's suit. In recent years the focus has wavered to women's clothes being equally as important, but with the search for growth, it's an easy choice to go back to the beginning and start where things were working wonders for the brand.
To go along with this announcement, and going right along with the goal of growth, it has also been reported that prices in Europe will rise, while prices in Asia will lower; this is the brand's attempt to differentiate between the two brands. Hugo and Boss are to become the two distinct brands.
Hugo is made up of casualwear for the younger customers; Boss is the label's signature luxury business clothing. Boss Orange and Boss Green will be discontinued from here on out. All of these things are steps to get the brand back on its original path for growth.
"By further developing our strategy, we want to steer Hugo Boss back toward sustainable growth," said CEO Mark Langer in an interview with . "We are sharpening our presentation and focusing on our customers' needs more consistently. In Boss and Hugo, we have two strong brands with their own identity, which appeal to different target groups."
For this moment, though, the coming fashion shows are the core of worldwide Boss fan's interest. The Hugo Boss fall 2019 womenswear collection is totally off the books for Fashion Month, but the menswear lines for the next season will be coming out right on schedule.
Photos courtesy of Vogue
When it comes to Hugo Boss, we always know that we are in for a treat. Classy, sassy and comfortable is what Jason Wu screams out and that is exactly what we got on theHugo Boss spring/summer 2019 collectionshown off on the New York Fashion Week runway show. With a myriad of primary colors and some lovely shades to go with it, it was street smart we were looking at as each of the 41 models stepped onto the stage.
Strappy dresses with vertical lining, sheaths that showed off the curves underneath, midi lengths and skirts swishing around the calves… we saw a lovely array of beautiful pieces that scream out daywear with ease. Though we were a bit thrown off guard with the overall asymmetry seen throughout the collection, generally around the shoulders and extending to a vertical cut at the hips.
Looking at the colors, we notice a whole lot of black and white, but also blues, greens and reds that make up the primary palette. Even the embellishments in the form of flowery or abstract designs utilize these hues best, whether on strapless midi dresses, see-through tops or pleated accordion skirts.
While showing off skin is not a priority here, mesh does exist, as well as a few pieces with slashes along the sides to give it that dash of sexy. There are no evening gowns or pieces that belong at a gala per se, but they are totally in tune with the average customer and would look amazing worn on a date or a night out on the town.
As for the asymmetrical sleeves, it often appears like a single shoulder has been fixed up to include another strap to it. It certainly is not for those with any form of obsessive compulsive disorder, but it certainly is stylish and looks great on the ladies.
Perhaps the only problem with the collection is the footwear, which looks like it was meant for the beach more than a date. It is chunkier than expected, flat and not particularly attractive, though the comfort levels are definitely ensured with it and a pregnant woman might find it exceptionally perfect to wear out.
In general, the fits complement the bodies without showing off too much, but certainly not too little as well. There are a few baggier looks that would appeal to those who appreciate a less feminine appearing style, while the longer hems ensure that a woman can feel gorgeous without baring too much leg if she wishes not to.
As for those accessories, there are lots of bags to choose from in the Hugo Boss spring 2019 ready-to-wear collection and we are sure to be shopping Boss come the spring season. There is one particular aqua colored tote bag that has captured our attention and we are waiting to see it enter stores in the coming months. There is nothing not to love about Hugo Boss.
Photos courtesy of Vogue
We always look forward to seeing beautifully tailored pieces from Boss' each showing, and since resort collections have been underway, we have been eagerly waiting to see how tailoring was able to translate into the world of luxury travel. In recent seasons, creative director Jason Wu has been restructuring the boundaries that the label generally falls into, so we are seeing how uptight tailoring plays with relaxation. For theBoss resort 2019 collection, we are given the perfect balance that shows Wu's new aesthetic working with the signature proper tailoring that only the Boss label can provide for us.
For his last fall collection for the brand, Wu added in some femininity via embroideries and floral prints for the décor side, while the overall designs of the pieces were softened by way of peplums, draping, or other curves added in throughout. So, we were expecting to see some of those stylish ideas coming forth for the resort collection as well, and we certainly weren't disappointed.
The overall line focused more on the tailoring than the feminization, but the lovely aspects like some of the pattern and color decisions were evident as well. It seems Wu is still working out the kinks of balancing his style and the classic Boss design aesthetic; he was appointed back in 2013, so we're sure that balance will be reached and there will be a sense of cohesion between lines in a few seasons.
Now, for resort, one might expect more flowy details to remind us of the beach and of a getaway travel destination, so Wu deciding to focus more on the Boss tailoring this season in particular was a bit of a surprising choice, but one not without its benefits. Sometimes a trip to such a destination is about both business and pleasure, so in that regard, Wu seems to have been designing for the businesswoman and what she might like to wear between exotic business meetings.
This adds a bit of fantasy and luxury to the everyday professional wardrobe, and with the sharp tailoring you could wear these smart pieces anywhere in the world to a meeting, a business encounter, or any office setting and have that powerful professionalism that can make a woman feel a bit sexier or more powerful in general as she goes about her average workday.
But some of the styles were less practical than others, giving way to style a bit more than utility. The classically tailored suitcoat dress with long fringe, for instance, might get in the way during someone's day to day business, but it does add a modern and chic twist to the signature Boss garment – so you have to take the pros with the cons, if such a statement would be in the way for you.
Yet, the slim-fitting dress with a cinched waist and the same length of fringe is indeed a more practical use of the embellishment, since it is bound to stay a bit closer to the body, and a whimsical addition like that is more expected of a dress than a suitcoat in general.
So Wu may be showing some inconsistencies in his design aesthetic for Boss from season to season, but hopefully that will be worked out in due time, so we can all have a clear image of what the Boss woman has become under this designer's direction. Right now he is at least bringing in some aspects (like the lovely green color) so we can see how things are progressing, so perhaps he is onto something consistent after all.
Photos courtesy of Vogue
When going into a Boss runway show, it is important to note that femininity is generally an aspect that is put on the backburner, although with Jason Wu in his fifth season as creative director, that has been turning around a little more. Wu's own design aesthetic is overtly feminine when creating womenswear, so he has worked within the parameters of Boss to endow the women's department, and saw the brand to double-digit gains last quarter. The designer has been able to bring together the Boss sophistication and edge, while also updating the sensibility to fit the style of more women in the working world.
Shoppers of Boss are now able to have the sleek professionalism of the fashion house, while designs continue to become sweeter and truer to the signature feminine look. Wu's Hugo Boss fall/winter 2019ready-to-wear collection smartly kept on with a similar mentality, smartly acting as a continuation of sorts from his spring line, which saw the substantial amount of success.
The looks still saw the same tailoring treatment as in the past, and the femininity that could be seen in the line was still quite edgy with tracings of the label's staple masculinity. And the garments were undeniably created with fall and winter temperatures in mind. The color scheme was based on neutrals, but the flow was stirred by sections of orange, olive, and pink garments. Everything stayed especially sophisticated, as was to be expected, without any hemlines falling above the knee. Yet, some looks were more polished than others.
The Hugo Boss fall 2019 collection began on an edgy note, with a black dress characterized by an asymmetric neckline and neutral flowers to one side. The asymmetry could be seen many times later in the collection, showing itself to be a prominent theme. In this piece, the flowing bottom didn't allow for tailoring but the lines at the neck showed the preciseness that could be expected through into the next piece and beyond.
The collection also utilized architectural elements to add dimension to the pieces. A contrasting black and light tan top showed pristine tailoring and was a striking number that evoked heavy feelings of confident femininity as it walked the runway. Later, an olive asymmetric peplum dress achieved a similar effect. Both were created in cozy wool, and played with curvy lines to add extra interest to the line.
"It's still linear," said Wu before the show. "But the lines are curvy." This was a theme throughout the collection, and was rather uncharted for the luxury label, but the result was lovely and added on to the sophistication throughout. And with such a high reputation on the market, there were some of today's most fashionable women seen in the front row. Bonnie Chen, Carine Roitfeld, Emily Ratajkowski, Kiki Kang, and Kylie Jenner could be seen soaking in the powerful yet sophisticated and feminine looks that were presented.
Photos courtesy of Vogue
After Givenchy unveiled its pre-fall collection with postcard shots from Berlin, the attention continues to float around Germany as we move on with our collections reviews. This time it's the legendary German fashion house, Hugo Boss. We're about to review one of the most respected Boss designers, Taiwanese Canadian designer Jason Wu, who besides designing for Michele Obama, can also make a statement on the runway and on every page of theHugo Boss pre-fall 2019 lookbook.
Many would (and have thought) think of the collection to be dull or too strong or even lacking personality. And here's probably why they think so. Fans of clean-cut looks are a whole separate consumer category. Being one of them, I think it's extremely difficult to give us something we will adore every time we put it on. It is not easy to find a piece worthy of our admiration. One of the reasons can be the lack of diversity in clean-cut clothing, the best examples usually being showcased on high fashion catwalks. Clean-cut fashionneedsto be made perfectly, because it's not only about the look, but also the fit! So, trends, quality and fit are what we're looking for.
Wu's collection is not dull, it's not too strong (there is no such thing as too strong for the right buyer), it's just so clean you want to touch it. The creamy white coat is the crown of the collection – clean lines bordering perfection and that almost-bathrobe look … irresistible. Cardigans of the same style, skirts flowing down up to the knees, the comeback turtlenecks are in the core of the looks.
If you're not a fan of turtlenecks or covering too much of the body you're so proud of, you can invest your attention into the skirts instead. They are well-constructed and can easily be mixed and matched with more revealing pieces.
The color palette of the Hugo Boss pre-fall 2019 line-up is very dark, just like most of the pre-fall collections we see now. Creamy and grayish whites, black, dark navy blue, peachy pink, and very little grey are what we are treated to this time.
Jason Wu has sent many intriguing garments down the runway and red carpets, but the clean lines and the right amount of appealing modesty has always been a backnote to his collections. Just one thought, he designs for the First Lady, there must be a serious reason behind it.
Wu's aesthetics is also entirely in tune with Boss's style and heritage. A match made in heaven. Something tells me the devoted customers of Boss would like this, let us know, if you're one of them.
One final question, why are all models covered up? An interesting choice is the amount of cleavage we see … that is none. Most of the pieces are long sleeved and fully necked. Add dark colors to this and you get the new sexy, mysterious, sophisticated, strong … and these are absolutely lovely when they're visible on your outfit.
The upcoming fashion show scheduled for February will be Wu's 5th for Boss. The German brand has been serving us with modern and cutting edge designs that have proved to be delicately elegant and timeless, and we can't wait to see more!
Photos courtesy of Vogue
It is that time of the year again: the main fashion houses are now unveiling their spring 2019 ad campaigns, making us already impatient to get our hands on their latest runway collections. So far, brands such as Burberry, Stuart Weitzman, Versace and many more have already revealed their glamorous ads, and Hugo Boss is the next on the list. Like many other fashion houses, Boss also chose to recruit some of the most talented and promising fashion and artistic talents to portray its spring 2019 collection's stylistic choices, managing to describe its line-up's modernist vibes in a few photos. The model of the year,Anna Ewersis the one featuring in theHugo Boss spring 2019 ad campaign, looking feminine and radiant as ever.
For the Boss spring 2019 ad campaign the House goes green, showcasing its best items both from its menswear and womenswear collections outdoors surrounded by nature and eco-friendly buildings. For the menswear ad campaign it literally goes green, portraying one of its green hooded field jackets worn by French model Clément Chabernaud. While the male campaign leans more on architecture, its female counterpart takes more advantage of the natural environment, wherein buildings are only to be seen on the backgrounds. The brand manages to produce such an interesting and elegant play of contrasts, with the ad campaigns completing each other like yin & yang.
The entire campaign has been lensed by Inez van Lamsweerde and Vinoodh Matadin, the most famous Dutch fashion photographer duo, whose artistic works have been featured on various fashion magazines such as Vogue, The Gentlewoman and GQ, and who have produced such iconic fashion ad campaigns as those of Moschino F/W 2015 and Chloé Parfum. Since their debut in the mid-90s, van Lamsweerde and Matadin have maintained a fruitful art career, producing innovative and introspective pieces of art with the aim always being to create a sort of personal interaction with their subjects.
For this specific spring 2019 ad campaign Boss' creative director Jason Wu took both the Dutch duo and the models to Montauk, NY, making sure the settings could perfectly blend nature with modernist architectural elements. This juxtaposition resembles some of the collection's main line, where geometric, if not almost architectural, lines perfectly recall those of the buildings.
Wu chose two of the most promising models of the fashion industry. While Chabernaud quickly became the French star of high fashion brands such as Gucci, and is still considered as one of the sexiest men alive, Ewers has just been selected the Model of the Year in the category Breakout Star by models.com (thus outclassing both Gigi Hadid and Kendall Jenner). Last but not least, Wu chose Joe McKenna, one of the most influential stylists of all time, to give the campaign his magic touch.
Photos courtesy of Boss
The Boss is in town! TheHugo Boss spring/summer 2019 collectionthat was newly unveiled on the New York Fashion Week runway brought out the softest side to Jason Wu it appears. This, in turn, can be argued to have made the best collection for the house created yet, with a focus on the modern woman and her needs in terms of looking awesome while still maintaining absolute comfort. It is a style celebrities are in love with, as attested to through Julianne Moore wearing a Le Smoking style jumpsuit to the Toronto International Film Festival held in the metropolitan Canadian city just last week.
The spring season is an interesting one for designers as they can utilize a wide range of fabrics that actually suit the needs of the women living through the slightly cooler to very warm days. The fall and winter generally require too much coverage and too thick a material to work with, though there have been those who enjoy bearing breasts as well as keeping to mini hems, despite the temperatures outside.
There is something about Hugo Boss that always speaks of maturity and sophistication. It is one of the more womanly collections found on the runways, catering to the ladies who see themselves not only as professionals in the world with a strong sense of individuality, but also those who enjoy a touch of flirty femininity to their wardrobes. From the white button down shirtdresses reaching mid-calf to the flowing pieces with plunging necklines, there is something inherently attractive about what Boss has to offer. There is a certain delicacy in the manner by which the pieces are made, the minimalist ideal all the more appealing to a woman, who understands her place in the world exactly.
The Hugo Boss spring 2019 collection as a whole, designed by Jason Wu, has much to covet. While the airy panels on the sheer organza may appeal to some who understand the world of fashion a little better and are more than willing to wear a piece where the neckline plunges down to the abdomen and the slit rises high from the center on a grey wraparound, others may opt for something more classic, tailored or simply fit for the professional world. It is interesting to see the midi to maxi hemlines dominating the runway, while the spring call for light jackets is fulfilled with cleanly tailored but loosely structures pieces worn over cropped trousers in stark white. Speaking of the white, it appears that Wu rather enjoyed bringing in bright yellows and passionate reds against the backdrop of white, black and grey, throwing in a dash of cobalt blue here and there as well. Aside from those plunging tops, we were given a feast of strapless and off-the-shoulder designs as well, while definitely finding the higher necklines a lot more enjoyable overall.
The end of the show was chic and black, with traditional tailored suits appearing on stage among jumpsuits and sensual but invariably modern creations, a touch of glamour among a rather maturely pretty line-up.
Video: Hugo Boss | Spring Summer 2019 Full Fashion Show | Exclusive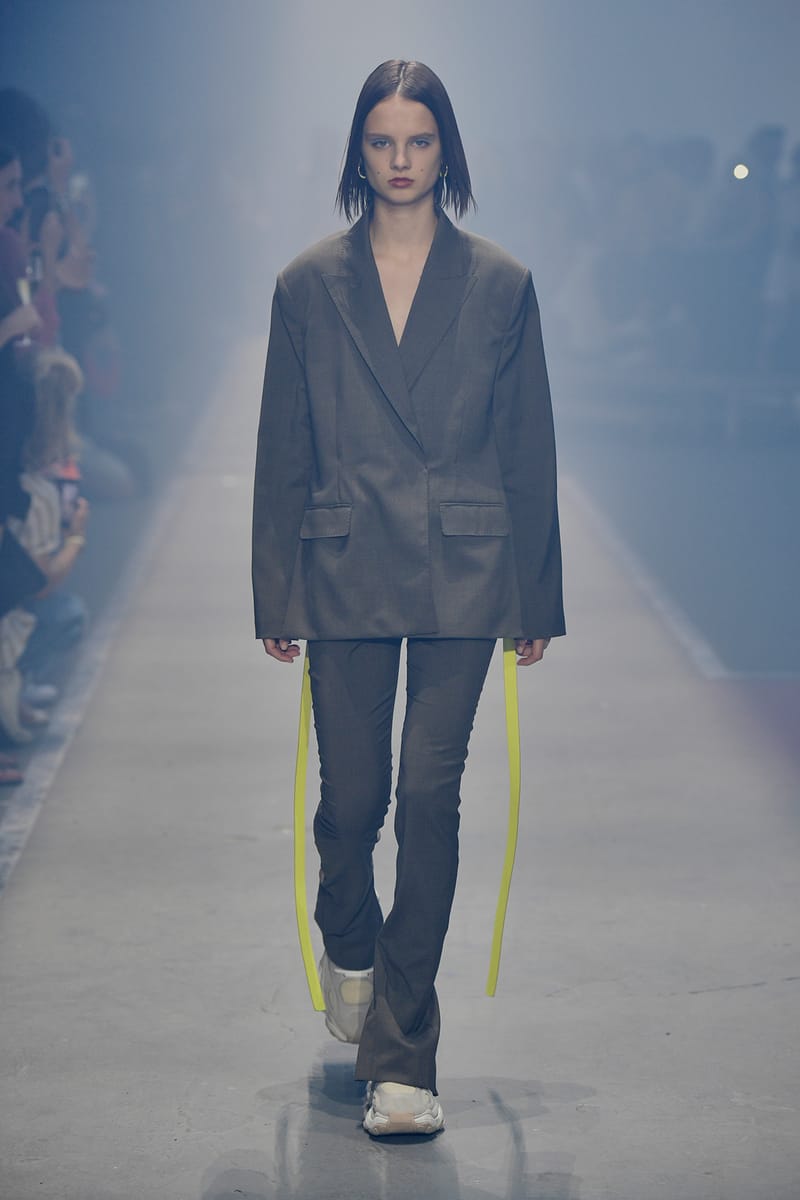 Hugo Boss SpringSummer 2019 Collection – New York Fashion Week images
2019 year - Hugo Boss SpringSummer 2019 Collection – New York Fashion Week pictures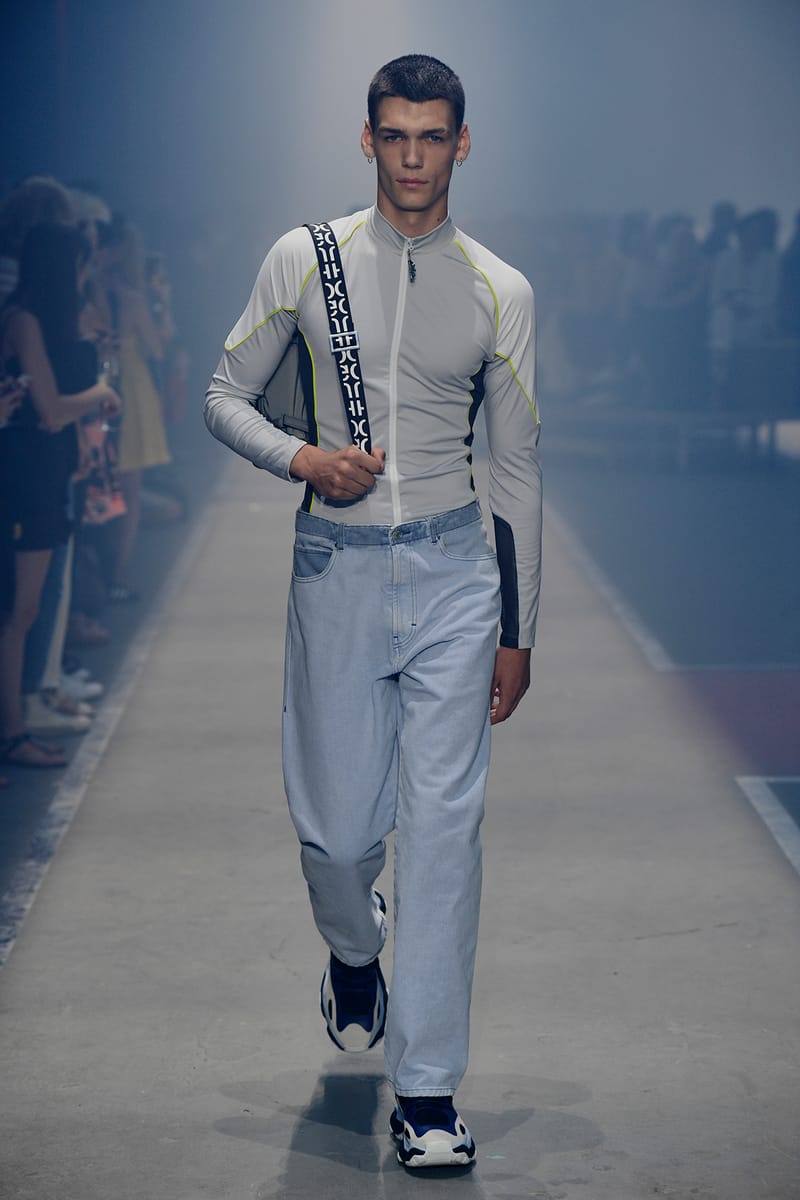 Hugo Boss SpringSummer 2019 Collection – New York Fashion Week recommend photo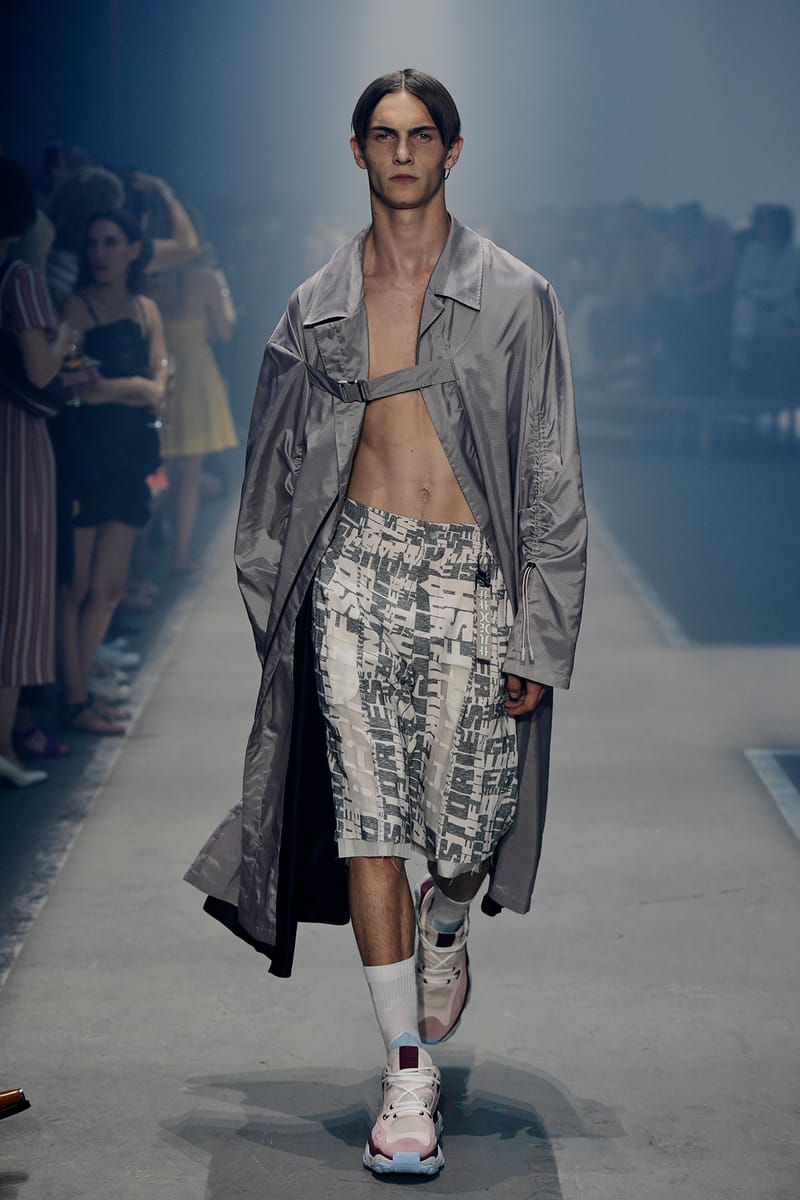 Hugo Boss SpringSummer 2019 Collection – New York Fashion Week foto
Hugo Boss SpringSummer 2019 Collection – New York Fashion Week new pictures
picture Hugo Boss SpringSummer 2019 Collection – New York Fashion Week
Watch Hugo Boss SpringSummer 2019 Collection – New York Fashion Week video
Communication on this topic: Hugo Boss SpringSummer 2019 Collection – New , hugo-boss-springsummer-2019-collection-new/ , hugo-boss-springsummer-2019-collection-new/
Related News
Metal Iron Stand Hanging Terrarium Holder, Black, 13-Inch
How to Make Bath Bombs Without Citric Acid
11 Most Scenic Half Marathons in the U.S
How to Design a Band Logo
In Defence Of Wide-Legged Trousers
West Coast Welcome: J. Mendel Kicks Off Award Season
We are on the positive side of the ledger
How Fast Is a Brisk Walking Pace
19 Fun Ways To Organize A Pizza Food Bar At Your Wedding
WithGlitter
Must-Do Strength Training Moves for Women Over 50
How to Cover Vitiligo Patches with Makeup
Date: 07.12.2018, 14:44 / Views: 94474
---