30 Best Ombre Hair Color Ideas
30 Blue Ombre Hair Color Ideas
If you've been thinking about adding some blue ombre color to your hairstyle, there's no time like the present! The past decade has seen an increase in daring hair trends, and from long hair with shaved sides to bright rainbow colors, edgy and alternative looks are becoming acceptable in more places than on the pages of fashion magazines. Blue ombre hair offers a surprising amount of options; you can go for young and playful in bright jewel tones, chic and sophisticated in muted greyish blue, or fantastic and mermaid-inspired with deep shades of ocean blue. Of course, getting this style will take some work; for anyone who doesn't have blonde hair, getting a blue ombre look will require chemical lightening, and it's a good idea to have a professional help you achieve your perfect shade of midnight, navy, or sky blue. We've gathered 30 of our favorite blue ombre hair color ideas to help you choose which bold, new style is right for you!
This dreamy blue rainbow ombre style takes the bright color style in a cool, casual direction. Worn over a natural brunette shade, this look won't subject all of your hair to the lightening process, and you can let it grow out for months without worrying about touch ups.
We love the rich palette and subtle transition between natural black hair and this ocean blue ombre. Because it's stylish, subtle, and perfectly executed, this blue hairstyle transitions surprisingly nicely into professional spaces.
Give your platinum blonde locks a splash of mermaid style with this aqua shade of blue ombre.
Blue Ombre Crochet Braids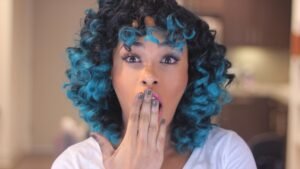 If you're looking for a low-commitment blue ombre style, try these accent colored tips on your next crochet braided style. While many brands sell synthetic hair that comes in pre-colored ombre varieties, crafty types can purchase blonde ombre hair and try a DIY dye job at home. Mixing acrylic paint with alcohol and spraying it on the hair, then leaving it to set for several hours can give you as many ombre options as there are swatches of paint!
Chocolate Brown With Sapphire Blue Ombre
This electric sapphire shade is a bold accent when paired with chocolate brown hair, but because both colors are rather dark, the contrast doesn't come across as distracting or overbearing.
If bright jewel tones aren't your thing, try this ultra trendy shade of pastel teal. Pairing an out-of-this-world ombre color with an earthy brunette shade makes the overall look more understated than if the rest of the hair was platinum blonde or jet black.
The stonewashed version of the denim hair trend, this long blue ombre gets so light that some pieces are a silvery white. Although lighter hair colors are more often associated with warmer weather, we think this icy blue ombre would make a great winter look.
This mid length blunt cut looks edgy and avant garde with a blue-green ombre color that starts more than half way up the hair.
Make your box braids pop with a candy colored style that looks good enough to eat. With the rainbow hair trend continuing in popularity, it's easy to find synthetic braiding hair in a variety of pastel and jewel tones.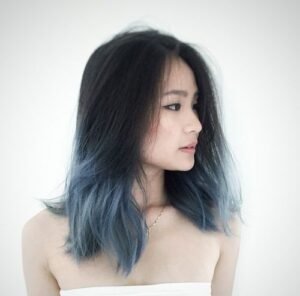 This greyish blue ombre style looks soft and gauzy thanks to the muted tones, making it one of the most chic ways to pull off blue ombre hair color.
If you're naturally blonde or you've already lightened your hair to a golden shade, getting a blue ombre style is as easy as using a semi-permanent dye over your butter-colored locks.
If you're thinking about going ombre with a bob, we love the bold look of dip-dye style in a bright color like this cornflower blue.
This three tone ombre with shades of aqua and blue over platinum blonde creates a tropical looking color palette that's the perfect way to switch up your style for the summer.
Although blue isn't natural looking when it comes to hair color, this brunette and blue combination has a calming, earthy quality.
Aqua Ombre Over Royal Blue
If you're dying to have a head full of ultra-bright hair, why not try this daring aqua ombre over a rich shade of royal blue. To keep these blues looking bright and vibrant for as long as possible, try to go for a few days in between shampoos, and use cold water and a sulfate-free shampoo on days when you do wash.
Try this gorgeous blue balayage if you're dying to try the denim hair trend but anxious about having a full head of blue hair. This style also grows out easily, and you can refresh your blue ends without needing to re-lighten hair each time.
Pairing aqua blue ombre with this vibrant red style makes for one of the boldest ombre looks on our list. If you're looking for an out-of-this-world color combo inspired by anime or comic book characters, this is the blue ombre style for you!
With multidimensional shades of peacock over a natural shade of black, this blue ombre style is rich and sultry. If you have dark hair and a warm, medium skin tone, this jewel toned palette is the perfect blue ombre style for you.
Light Pastel Blue Dip Dye
Put a little bit of color in the tips of your dirty blonde hair with this pastel dip-dye style. If your hair is mid length or longer, a few inches of ombre are easy to trim off when you decide it's time to for a change.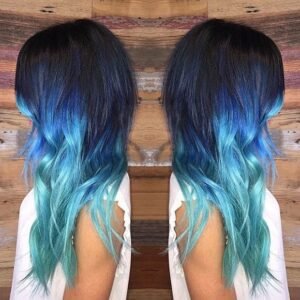 With a deep shade of midnight at the roots that transitions to royal blue and then aqua, this three-toned ombre style manages to look fun without being full-blown cartoonish.
Only select pieces of hair are colored in a blue ombre style, resulting in a more subtle, streaked look that's fairly easy to keep up, and looks good whether hair is worn curly or straight.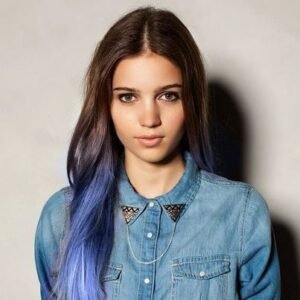 This purplish blue color is an excellent contrast against medium shades of brunette like these chestnut colored strands. This long ombre style looks especially eye-catching in intricate braided styles, but still works when you're feeling a low-key straight style like the one pictured.
This turquoise blue ombre style marked a major point in Kylie Jenner's rise to becoming a fashion and beauty icon just as influential as her famous older sisters. The bright shade pops against her creamy olive skin and warm eyes, making it one of the best celebrity hair experiments in recent memory.
With a steely blue ombre over blue-black hair, this is one of the most luxurious looking ways to wear your hair in an unnatural color. While shades this dark can wash out very fair skinned women, they look extra flattering on women with deeper or olive tinged complexions.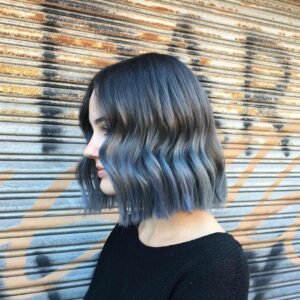 This blue denim ombre color is subtle enough to look soft and blend well with the sharp lines of this expertly cut blunt bob. Copy this curl technique in the middle of the hair shaft to help blur the line between where brunette ends and denim blue begins.
Just the last few inches of this ultra long, dark hair have been dyed in an aqua blue ombre, making it a reasonable DIY dye-job for anyone who has some experience bleaching hair. If you're hair is artificially dark instead of naturally black, be prepared to need much more bleaching time to lift your ends to a lighter shade.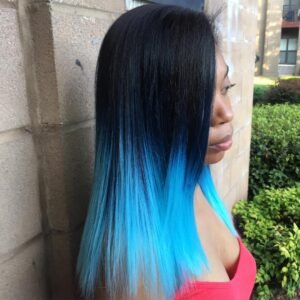 A sky blue ombre shade hits this mid-length style right in the middle, but the color has been expertly applied using a hand painted technique to avoid a harsh straight line cutting across the hair.
Always a risk taker when it comes to fashion and beauty choices, Demi Lovato brought blue ombre flair to this bob style that was already edgy thanks to it's side shave detail. This look is a perfect example of how to use a few bold details at the same time.
This blue ombre color begins far enough up the hair that it could also be referred to as blue hair with an exposed brunette root. Either way, this playful style looks brilliant as it catches the sunlight, offering up a cool dose of color on a hot summer day.
While the rainbow hair trend creates some very modern looking styles, the right shades can create a look that's sweet and antique. With the perfect shade of robin's egg blue, this ombre style looks soft and romantic, especially when worn in curls and pinned back at the sides.
Video: New Gorgeous Ombre Hair Color Ideas - Hair Color Trends
30 Blue Ombre Hair Color Ideas images
2019 year - 30 Blue Ombre Hair Color Ideas pictures
30 Blue Ombre Hair Color Ideas recommend photo
30 Blue Ombre Hair Color Ideas pictures
30 Blue Ombre Hair Color Ideas new picture
photo 30 Blue Ombre Hair Color Ideas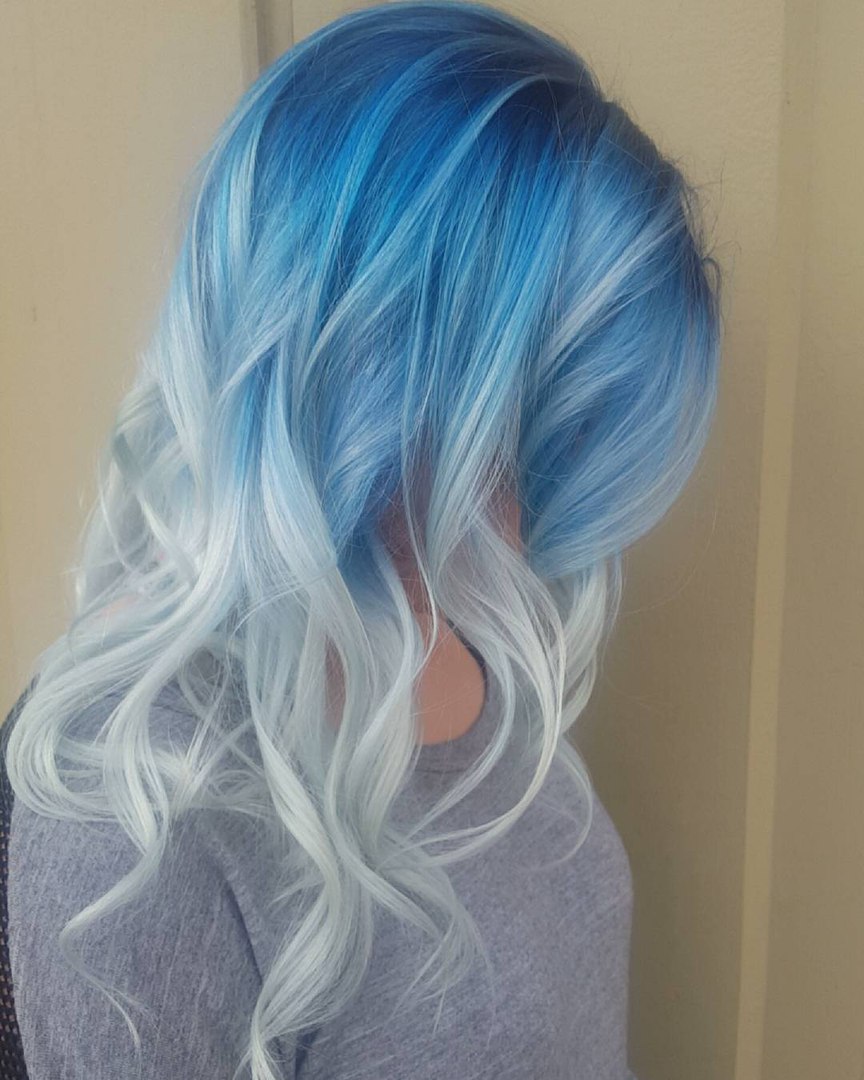 Watch 30 Blue Ombre Hair Color Ideas video
Forum on this topic: 30 Blue Ombre Hair Color Ideas, 30-blue-ombre-hair-color-ideas/ , 30-blue-ombre-hair-color-ideas/
Related News
How to Choose a Suitable Job Position
A Comparison of Krill and Fish Oils: Is One Better Than the Other
WDs Appliance Buying Guide
How to Clean Oculus Rift Lenses
Turkey Basil Burgers
How to cure pimples acne overnight
People Tree pick up fashion accolade at Observer Ethical Awards
Mueller requests DOJ documents related to Comey firing, Sessions recusal
Did Meghan Markle's New Pink Manicure Break RoyalTradition
Mushroom and Zucchini Make-Ahead Quiche
How to Brush Your Teeth for Longer
How to Play Agar.io
How to Teach Sustainability
Pecan Maple Leaves
Date: 09.12.2018, 04:29 / Views: 93575
---